Why greet viewers a "Magandang gabi, bayan (Good evening, nation)" when you're dishing out bad news?
President Benigno Aquino III on Friday night lashed out at executives, producers and staff of ABS-CBN's "TV Patrol" for highlighting the negative in their early evening news program during the show's silver anniversary celebration at the Manila Hotel.
Mr. Aquino was particularly alluding to the program's news main anchor, former Vice President Noli de Castro, whom he criticized for what he called his skeptical, out-of-place snide remarks about otherwise good stories by the field reporters.
Mr. Aquino said that in October 2011, the program aired a story about a 200-percent spike in passenger arrivals at the Ninoy Aquino International Airport Terminal 3.
'Good news'
"This is good news. In spite of this, one of your news anchors managed to comment, and I quote, 'Nasa Naia 3 ka kasi; kung nasa Naia 1 ka, doon malala (That's because you're in Naia 3. If you were in Naia 1, it's terrible there),'" he said.
"It made me wonder, what has the report about Naia 3 got to do with Naia 1? Has anybody said Naia has been fixed? If someone did, it's not us. Perhaps he has forgotten the structure is 30 years old," the President said in Filipino.
"It got me to thinking: Didn't the commentator hold the reins of government for six years? Let's say they only inherited the problem. But what they passed on to us is a much older problem. He had been given six years to help fix the problem he's complaining about. And now that we're dealing with the problem, we still hear comments like that and it hurts," the President said.
Praise for 'TV Patrol'
Mr. Aquino spoke before a crowd of ABS-CBN executives, led by chair and chief executive officer Gabby Lopez, president Charo Santos-Concio and news and current affairs division head Ging Reyes as well as officials and staff of "TV Patrol" in the hotel's Fiesta Pavilion.
Mr. Aquino started off on a light note, recalling how as a youngster, he used to tune in to "Radyo Patrol" for instant news especially when the power had been cut off by a storm.
He praised "TV Patrol" for its courage and determination in bringing news and information to the public, especially in times of disasters, for the past 25 years and being the source of accurate reporting "when there are doubts in the minds of the public about certain issues."
But for most of his speech, he zeroed in on De Castro's remarks on some of the stories, including last month's rescue of an abducted Burmese boy by the National Bureau of Investigation and the dialogue between Transportation Secretary Mar Roxas and public transport drivers on the transport fare hike.
Burmese boy rescue
The rescue had all the elements of a good story: The authorities got a tip, and they acted on it, rescuing the victim and the boy was reunited with his parents, Mr. Aquino said.
"Everybody was happy except our anchor who managed to remark that maybe the rescue operation was set up and that a ransom was paid," Mr. Aquino said.
"No matter how the reporter explained the operation—that the NBI conducted its own surveillance and that they had chanced upon the boy without anybody guarding him—the anchor kept pushing his point," he said.
"Surely, while patrolling every nook and cranny of the country, you'd stumble upon a positive story that could be a source of inspiration and hope for our countrymen. It's doubtful that if you air this news, the TV and radio sets of your avid listeners would go on fire," the President said.
He clarified that he was not asking the network to project a good image of the administration but to present a balance of good and bad news.
http://newsinfo.inquirer.net/238327/aquino-slams-news-delivery-during-tv-networks-bash
Residents or Manila travel out of town to head north to Pampanga to relax, unwind and spend a few nights in the new hotel rooms situated right on the lake of Clearwater Resort in Clark Airbase. Many visitors and tourists enjoy the feeling of waking up by the lake. The sunrise produces a spectacular sight with the sunlight reflection on the calm surface of the three-hectare fresh water lake of this famous resort in Clark.
Families with small children prefer outdoor hotel in Manila, clean and safe place in Pampanga Clark to bring kids to relax and unwind. Outdoor space is an important criterion affecting the selection of a suitable hotel in Clark Pampanga for family bonding or to relax and unwind with friends. Best hotel in Clark Pampanga offers good outdoor facilities, large picnic grounds, lake and beach and other outdoor amenities making it possible for guests of this frequently visited hotel in Clark to relax and unwind with no stress.
The safest getaway destination vacation spot near Manila convenient safe and accessible is Clearwater Beach Resort in Clark Pampanga, great for family bonding, hang out to unwind and relax near lake and trees, camping too.
Where to go in Clark? Hotel Clark Philippines is a De Luxe Hotel in Clark and Subic, a risk free place to stay, cozy and nice ambience, a nice function place for special occasion
Are you looking for an attractive restaurant or a nice place to eat with friends in Clark, Angeles City Pampanga? Yats Restaurant and Wine Bar is a restaurant with good food and good wines for dinner located at Clark Angeles City Pampanga. Perfect for exclusive dinner venues for groups, recommended for private dinner in Philippines. A Restaurant in Clark for business dinner meeting. Private dinner place or dinner restaurant in Clark Subic Near Manila Angeles City Pampanga. Yats Restaurant is one of the Good Restaurant in Pampanga Angeles City Clark near Manila.
You might want to check also the Yats Restaurant is the best restaurant for special dinner, best restaurant for dinner with friends near Manila, also the best place to celebrate special events.
Famous Restaurant in Pampanga, a place to dine with friends in Clark, cozy restaurant with a nice ambience, a nice function place for special occasions. Yats Restaurant is one of the good restaurants in Pampanga, a restaurant with good food, a place that is nice for celebration, ideal for business dinner meeting, a good place to enjoy family reunion, and an attractive restaurant that serves good wines for dinner.
Looking for a party venue in town?
Clearwater Resort and Country Club is one of the ideal venues for birthday party because it is a risk free venue. Not only Birthday Parties but also a good place to enjoy family reunion. A good place to celebrate special occasions. Clearwater Resort and Country Club is one of the resorts in Subic Clark Angeles City Pampanga or near Manila with activity amenities, place that are nice for celebration.
When in Clark, make plans to relax and enjoy an evening at The London Pub located in Mimosa Leisure Estate of Clark Pampanga. This highly recommended resto bar where all the local executives of Pampanga, local and foreign tourists visiting Angeles City, Subic and Clark Philippines gather after a full day of fun or work.
Looking for interesting hotels near Manila Subic Clark Angeles City Pampanga?
Trouble free hotels and well recognized hotels in Subic Clark Angeles City Pampanga
Clearwater Resort and Country Club offers a good place to stay in Subic Clark Angeles City Pampanga. In offers nice place to have rest in Subic Pampanga outside Manila.
One of the Philippines top hotels in north Luzon.
The London Pub is a very popular resto bar for residents, tourists, business executives and visitors from Manila to hang out, drink, relax and unwind after work or a game of golf during the day. Fine English cuisine, family comfort food is served. It is also very famous for the best fish n chips in the Philippines.
http://www.LondonPubClark.com
This web site contains articles and information that will be helpful to visitors, residents and tourists traveling out of town from Manila on a short getaway to Subic, Angeles City, Pampanga and Clark Philippines. There are several web sites that contain information that might also be pertinent to what is happening in North Luzon, Subic, Tarlac, Pampanga, Clark Freeport Philippines.
Wedding couples looking for wedding reception venues and beach wedding venues can log on to this Philippines Wedding Venue web site for free information and assistance:

For assistance with lodgings, accommodations, hotels and resorts near Manila in Subic, Pampanga, Angels City and Clark Philippines log on to http://www.HotelClarkPhilippines.com
While in Clark, one might as well add to the itinerary a visit to the famous Clark Wine Center, the largest wine shop in Philippines which offers over 2000 selections of fine vintage wine from all wine regions, vintages spanning over 50 years covering all price ranges.
Search
Contact Clark Philippines
Politics & Opinion
Promote Your Business
Recent News & Press Releases
What's Happening in Clark
Flight Schedules
Diosdado Macapagal International Airport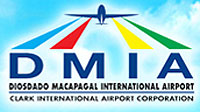 Check flight schedules to and from Clark Freeport
here
Exchange Rate
<!-Currency Converter widget - HTML code - fx-rate.net -->
   Philippine Peso Exchange Rate
<!-end of code-->
Clark Pampanga Weather
<!-Weather in Angeles City, Philippines on your site - HTML code - weatherforecastmap.com -- ><!-end of code-->