Wedding Planning, Organization and Services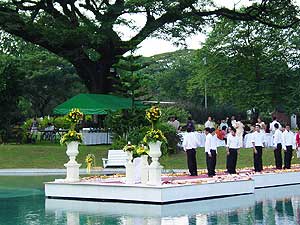 Planning and organizing a wedding or a garden reception in Pampanga, Philippines can be much easier with a little help from professionals and some useful tips and ideas found on the internet. A list of wedding services including gowns and dresses, photography, entertainment and bridal limousine can be found in Pampanga.
All kinds of wedding services and logistics are available at attractive prices near Manila. Highly recommended wedding and reception venues can be found in Clark Philippines. In addition to resorts and hotels in Clark, Pampanga, there are other choices of wedding reception venues especially for smaller parties of less than 100. Among the top rated indoor wedding venues is fine dining Yats Restaurant & Wine Bar. This upscale dining establishment is renowned for its award winning wine list. The resto bar is also frequently used for small wedding receptions of 50 to 100 people.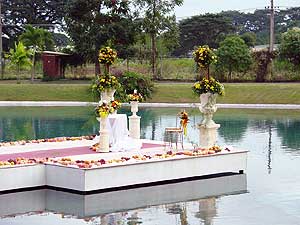 Philippines wedding planners and wedding reception caterers recommend Clark Philippines as this year's premier destination for beach weddings and garden receptions. Wedding couples in Philippines no longer prefer traditional indoor venues and hotel ballrooms for wedding receptions in Manila, Angeles City, Subic and Clark Freeport.
Selecting a good and safe event venue in Philippines is not that easy. Many public event venues in resort hotels in Philippines can't deliver assurances of safety and security. This exposes our corporate and private events to risks that are not acceptable to us as event organizers in Philippines.
Comparison of crime rates between Philippines Angeles City and Clark Pampanga sheds light on the difference between the twin cities of Pampanga. Regular guests of Angeles City Hotels begin to migrate on base into hotels inside Clark Philippines not only for peace and quiet but peace of mind and a sense of safety and security.