Wedding reception Venues in Clark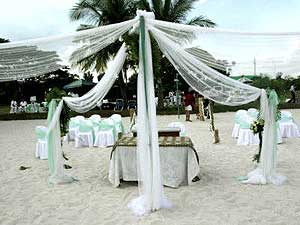 The best wedding venues outside Manila in Pampanga and Subic are listed here including a beach resort which is a semi-private establishment located in the central business district near shopping, business, entertainment, airport and other conveniences of Philippines Clark Freeport Zone. The wedding reception venues, beach resorts, leisure parks and vacation hotels in Clark Pampanga offer a unique ambience that supports a laidback relaxing lifestyle. Many visitors travel north to Clark Pampanga from Manila to unwind and relax in these resorts.
This Pampanga resort hotel is different from other hotels in Clark Philippines or hotel in Angeles City. This Clark Hotel has large outdoor space for children to play and adults to enjoy some peace and quiet in the picnic grounds near the lake. Guests like the Hotel's café breakfast garden which serves the best breakfast in Pampanga.
Many wedding couples prefer wedding venues in the north, in Subic and Pampanga. In Pampanga, Philippines, there is a highly recommended beach resort that is frequently visited and very popular for weddings. Clearwater Resort and Country Club is a semi-private resort that offers over 12 different venues for wedding receptions. Each event venue offers a different style, charm and ambience. This is probably the best outdoor venue in the Philippines for wedding and receptions.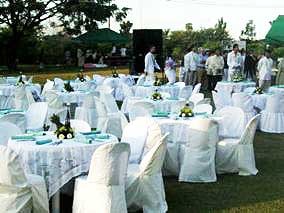 This 13 hectare lake beach resort near Manila Philippines is also highly recommended for family tourists with children or couples and individuals hoping to relax and enjoy peace and quiet in a laidback American suburban lifestyle.
To many visitors from Manila, a good wedding venue in Pampanga must be located in a city that is safe, clean and not so noisy. One hotel in Clark Philippines really fits those criteria, and it is Clearwater Resort & Country Club. The location of this wedding venue is convenient for visitors looking to go out of town from Manila in a short getaway with family and friends traveling north to Angeles City Clark Pampanga. Traffic along the North Expressway NLEX is always light and the new Subic Tarlac Clark Expressway ScTex takes visitors straight into Clark Freeport without going through any towns and cities along the way.
Wedding guests enjoy spending time relaxing at Frolic Garden of this hotel in Clark Pampanga. There is a special feeling in this hotel in Clark Philippines makes you slow down and enjoy the ambience. Children like playing in the Family Cove of this Clark resort hotel. Hotel guests prefer Clark over Angeles City, Subic or hotel in Manila. This hotel in Clark Philippines has style and character. Many wedding guests even come back again to relax and enjoy the beautiful ambience of this hotel in Clark Pampanga.