CLARK DEVELOPMENT CORPORATION
TO : CFZ Locators
SUBJECT : Implementation of the CDC Electronic Export Documentation System (e-EDS) and the Electronic Payment System (e-Payment) with Land Bank
DATE : 2 December 2010
Pursuant to CDC's aim to automate and simplify the trade approval processes
at the Clark Freeport Zone (CFZ), we are happy to inform that the CDC
Electronic Export Documentation System (e-EDS) and the e-Payment system
with Land Bank of the Philippines (Land Bank) have already been softly
launched for implementation effective December 1, 2010.
Similar to eTAPS (electronic-Transit Admission Permit System) which was
fully implemented in Clark January 2009, the e-EDS and e-Payment system
may be lodged electronically via web/internet through CDC accredited Value
Added Service Providers (VASPs) and Land Bank. CDC processing and
approvals will also be automated. A special feature of the e-EDS is the
adoption of a single form that captures the export data requirements of CDC,
DTI and the BOC and adopts the DTI Export Declaration – Single
Administrative Document Form. This allows single filing of export applications
which can be used by CDC, DTI, and BOC for their evaluation and approvals.
Attached is the relevant Memorandum Circular providing details on the
procedure and requirements of e-EDS, for guidance and compliance of
everyone. Mandatory use of the e-EDS will be by January 2011. In the interim,
CDC locators may opt to use either the e-EDS or the manual CDC Export
Documentation System.
For guidance of everyone.
BENIGNO N. RICAFORT
President and CEO
atch: Implementation of the CDC Electronic Export Documentation System (e-EDS) effective January 2011 (TD10-7491.pdf)
Implementation of the CDC Electronic Export Documentation System (e-EDS) and the Electronic Payment System (e-Payment) with Land Bank (TD10-7490.pdf)
bcc: CFZ Registered Locators & Investors
Search
Contact Clark Philippines
Politics & Opinion
Promote Your Business
Recent News & Press Releases
What's Happening in Clark
Flight Schedules
Diosdado Macapagal International Airport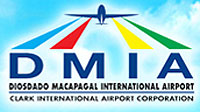 Check flight schedules to and from Clark Freeport
here
Exchange Rate
<!-Currency Converter widget - HTML code - fx-rate.net -->
   Philippine Peso Exchange Rate
<!-end of code-->
Clark Pampanga Weather
<!-Weather in Angeles City, Philippines on your site - HTML code - weatherforecastmap.com -- ><!-end of code-->