Pampanga Rep. Gloria Macapagal-Arroyo's Facebook account.
LUBAO, Pampanga- In an apparent move to make up for the lost time with her constituents here arising from her detention, former President and now Rep. Gloria Macapagal-Arroyo is now reaching out to them via the social networking Facebook amid her reported plans to seek reelection in 2013.
The Facebook account surfaced about a month ago and invited Kapampangans, including members of the local media, as friends. As of yesterday, the account posted 831 friends and 104 public subscribers.
Punto called up at 11:30 a.m. yesterday the telephone number cited in the account as belonging to Arroyo's office here, but the phone only rang without being answered.
The account, however, seemed authentic despite the lack of anyone to confirm it immediately as of yesterday.
When news broke out last Thursday that Arroyo would visit Pampanga the following Friday, the Facebook account rightly cited Barangay Babo Sacan in Porac town in response to Punto's query on the exact location of her destination.
During last Friday's visit to Porac, Arroyo's spokesperson Elena Bautista Horn confirmed the former president's plan to seek reelection in Pampanga's second district.
Amid rains throughout the province wrought by tropical depression Gener, the Facebook account quoted Horn as saying:
"Former President and Congresswoman Gloria Macapagal-Arroyo is on a 24-hour alert monitoring developments in the 2nd district of Pampanga including nearby towns regarding possible effects brought about by tropical depression Gener."
"She is recommending to the town mayors to mobilize resources and put in place rescue and relief operations to help her cabalens overcome the dangers that may arise.
She is asking to receive hourly reports directly from the mayors. Evacuation centers have already been identified for possible evacuation," the statement also said.
The bulletin elicited positive reactions from Arroyo's supporters. One Tessie Calixto Arriola said: "That's my leader. Always alert and helpful."
The Facebook account, however, was apparently prepared for her by her staff about a month ago when the account started to invite Kapampangan friends, as the police had barred Arroyo from cellphones and the internet during her detention at the Veterans Memorial Hospital until she was allowed to post bail Wednesday last week.
The account initially featured a photo of Arroyo during her project inspections in Pampanga before her detention.
Yesterday, the main page featured her still with a neck brace, waving to the crowd from a window in her coaster after she posted bail on electoral fraud charges Wednesday last week.
Many other photos showed her posing with her "cabalens" during her term as president and congresswoman.
http://punto.com.ph/News/Article/14996/Volume-6-No-27/Headlines/CGMA-makes-up-for-lost-time-befriends-constituents-via-Facebook
Manila families with small children looking for an accessible place for kids to have fun frequently visit private resort in Clark Pampanga to unwind relax in family bonding, top venue for reunion.
Some hotels and resorts offer free WIFI Internet connection to guests. This includes beach resort of Clearwater which also offers free Internet connection in the room as well as in the outdoor areas even near the beach and by the lake.
Fine dining restaurants like Yats Restaurants and Wine Bar also offers good internet connection to their guests. Highly recommended bar, pub and nightlife spot The London Pub located inside Mimosa also offers good internet connection to guests.
The London Pub is a classic English Gastropub frequented by local expats and business community. It serves up good food, plenty of excellent vintage wine by the glass and a good selection of Cuban cigars. The ambience is old English, dark wood, comfortable and relaxed.
Where to go in Clark? Hotel Clark Philippines is a De Luxe Hotel in Clark and Subic, a risk free place to stay, cozy and nice ambience, a nice function place for special occasion
You might want to check also the Yats Restaurant is the best restaurant for special dinner, best restaurant for dinner with friends near Manila, also the best place to celebrate special events.
Famous Restaurant in Pampanga, a place to dine with friends in Clark, cozy restaurant with a nice ambience, a nice function place for special occasions. Yats Restaurant is one of the good restaurants in Pampanga, a restaurant with good food, a place that is nice for celebration, ideal for business dinner meeting, a good place to enjoy family reunion, and an attractive restaurant that serves good wines for dinner.
Are you looking for an attractive restaurant or a nice place to eat with friends in Clark, Angeles City Pampanga? Yats Restaurant and Wine Bar is a restaurant with good food and good wines for dinner located at Clark Angeles City Pampanga. Perfect for exclusive dinner venues for groups, recommended for private dinner in Philippines. A Restaurant in Clark for business dinner meeting. Private dinner place or dinner restaurant in Clark Subic Near Manila Angeles City Pampanga. Yats Restaurant is one of the Good Restaurant in Pampanga Angeles City Clark near Manila.
Frequent travelers and visitors staying in Angeles City Pampanga Clark Philippines look for restaurants, coffee shops, bars, pubs, hotels and resorts in Clark that serve high quality Nespresso coffee to guests. Here are some of the highly recommended places in Clark that offer good gourmet Nespresso coffee.
Looking for interesting hotels near Manila Subic Clark Angeles City Pampanga?
Trouble free hotels and well recognized hotels in Subic Clark Angeles City Pampanga
Clearwater Resort and Country Club offers a good place to stay in Subic Clark Angeles City Pampanga. In offers nice place to have rest in Subic Pampanga outside Manila.
One of the Philippines top hotels in north Luzon.
This web site contains articles and information that will be helpful to visitors, residents and tourists traveling out of town from Manila on a short getaway to Subic, Angeles City, Pampanga and Clark Philippines. There are several web sites that contain information that might also be pertinent to what is happening in North Luzon, Subic, Tarlac, Pampanga, Clark Freeport Philippines.
Looking for a party venue in town?
Clearwater Resort and Country Club is one of the ideal venues for birthday party because it is a risk free venue. Not only Birthday Parties but also a good place to enjoy family reunion. A good place to celebrate special occasions. Clearwater Resort and Country Club is one of the resorts in Subic Clark Angeles City Pampanga or near Manila with activity amenities, place that are nice for celebration.
Wedding couples looking for wedding reception venues and beach wedding venues can log on to this Philippines Wedding Venue web site for free information and assistance:

For assistance with lodgings, accommodations, hotels and resorts near Manila in Subic, Pampanga, Angels City and Clark Philippines log on to http://www.HotelClarkPhilippines.com
While in Clark, one might as well add to the itinerary a visit to the famous Clark Wine Center, the largest wine shop in Philippines which offers over 2000 selections of fine vintage wine from all wine regions, vintages spanning over 50 years covering all price ranges.
Search
Contact Clark Philippines
Politics & Opinion
Promote Your Business
Recent News & Press Releases
What's Happening in Clark
Flight Schedules
Diosdado Macapagal International Airport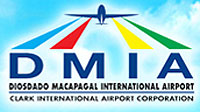 Check flight schedules to and from Clark Freeport
here
Exchange Rate
<!-Currency Converter widget - HTML code - fx-rate.net -->
   Philippine Peso Exchange Rate
<!-end of code-->
Clark Pampanga Weather
<!-Weather in Angeles City, Philippines on your site - HTML code - weatherforecastmap.com -- ><!-end of code-->