Politics may be addition but one should also heed the lessons of the past.
That appears to be former President Joseph Estrada's message yesterday to President Benigno Aquino III's Liberal Party as he belittled the new coalition it was assembling and blasted the group for "pirating" senatorial candidates from his United Nationalist Alliance (UNA).
Estrada, who formed UNA with Vice President Jejomar Binay, said the Aquino camp's move "shows the weakness of the LP."
"They're pirating. That shows they cannot complete their lineup," the 75-year-old ex-President told the Inquirer in a phone interview.
Estrada did not like that Senators Loren Legarda and Gregorio Honasan were being mentioned as possible candidates of the emerging coalition among the LP, the Nacionalista Party (NP) and the Nationalist People's Coalition (NPC).
UNA earlier drafted Legarda and Honasan as its senatorial candidates.
Estrada said the piracy could boomerang on the administration coalition as what happened to Sen. Manuel Villar, the NP standard-bearer in the 2010 presidential election.
"The people know about it," he said. "Just like what happened to Villar. He pirated. He lost just the same."
Legarda, Honasan
Estrada initially reiterated UNA's policy against accepting "guest" candidates.
"We have an agreement. We will not entertain common guest candidates of other parties," he replied when asked about the possibility of letting go of some UNA bets. He said vacancies could then be filled by "many up-and-coming" candidates.
But later in the interview, Estrada appeared to have changed his tone and sounded confident the new LP coalition would not be able to lure Legarda or Honasan away from UNA.
He said he had been assured by Legarda that she would not "climb the stage" of another party that would include her as its candidate. In the case of Honasan, he said the reelectionist senator would stick it out with Senate President Juan Ponce Enrile, a senior leader of UNA, "no matter what."
Allegiance to UNA
Another reelectionist being considered by both UNA and the LP is Sen. Francis Escudero, who bolted the NPC before the 2010 presidential election. But Estrada said he remained unsure whether UNA would get Escudero.
He said: "If they bring our candidates as their guest candidates, we will welcome it. But their allegiance is to our party, UNA."
Estrada joked there was a bill seeking to punish political "turncoatism." One of the measure's prime movers is his son, Sen. Jose "Jinggoy" Estrada, the Senate president pro tempore.
"There'll be a law against turncoatism. They're now practicing turncoatism," he said.
To overwhelm Aquino
Estrada said he was not alarmed by any LP-NP-NPC alliance.
He said he did not consider such an alliance "formidable" and cited a Pulse Asia survey showing Binay and him among the three top political endorsers in next year's midterm elections, along with Mr. Aquino, who was listed second.
Estrada said his endorsement—along with that of Binay's and Enrile's—would overwhelm that of the President's. "We're three so we'll have the edge over their candidates," he said.
He said another sign of the LP's "weakness" was the recent attack on UNA's senatorial candidate, Zambales Rep. Milagros "Mitos" Magsaysay, by administration Sen. Franklin Drilon.
In a media briefing, Drilon endorsed the candidacy of former Sen. Ramon Magsaysay Jr. under the LP, describing him as "the real Magsaysay." Mitos Magsaysay felt slighted by the description and lambasted Drilon.
Estrada agreed with the feisty congresswoman. "So his wife is also a fake Drilon? That's insulting," he said.
Mitos Magsaysay is married to the son of Ramon Magsaysay Jr.'s cousin, former Zambales Gov. Vicente Magsaysay.
Moving on
Malacañang sees nothing wrong with the LP bets campaigning alongside the candidates of the NP, whose former standard-bearer—Villar—had been linked to a road scandal before and during the 2010 presidential campaign.
Presidential spokesperson Edwin Lacierda defended Villar, saying the Senate never passed a proposed resolution censuring the senator in connection with the alleged C-5 Road extension irregularity in 2010.
"Campaigning is campaigning. There were words that were exchanged during that time but we move on for the sake of the country," Lacierda said at Friday's news briefing in Malacañang.
Mr. Aquino revealed on Thursday that the LP has had quite successful coalition talks with the NP and the NPC.
Supportive
Pressed for comment whether Mr. Aquino would find it acceptable to work with someone linked to the alleged C-5 overpricing scandal, Lacierda said the Senate resolution on Villar's supposed involvement in the overpricing was never passed.
"The resolution was not carried. Correct me if I'm wrong," Lacierda said.
A few days before election day in 2010, Senate President Juan Ponce Enrile accused Villar of raising P5 billion for his presidential campaign kitty from an allegedly irregular transaction involving his real estate firm's shares.
Lacierda said Villar had been supportive of the Aquino administration's legislative proposals in the Senate.
"They recognize what's important for the country … and so they will rise above political differences and see what's good for all of us," Lacierda said.
Principles
Lacierda suggested that the public look beyond Villar and see the NP as a party.
"You're looking at the Nacionalista Party and who will be there? You're looking at (Senate Minority Leader and reelectionist) Alan Cayetano, who stood for good governance," Lacierda said. "(Party) principles transcend individual differences."
Aside from Cayetano, the NP also has in its fold Sen. Ferdinand "Bongbong" Marcos Jr., with whom Mr. Aquino has had political and perhaps even personal differences.
Mr. Aquino recently disapproved military honors for Marcos' father, the late dictator Ferdinand Marcos.
The Aquino family believes the former dictator was involved in the plot to assassinate the President's father, former Sen. Benigno Aquino Jr., in 1983.
http://newsinfo.inquirer.net/224787/ex-president-estrada-hits-lp-np-npc-coalition-for-piracy
Pampanga Angeles City and Clark Philippines is a popular choice for event organizers and company event planners because it is safe, secure and conveniently accessible from Manila. The short travel time from Manila to Clark means there is more time for participants to enjoy the programs, relax and unwind in the outdoor facilities of this highly recommended resort hotel in Clark.
Travelers going north to Clark Pampanga frequently look for enjoyable hotel for family bonding during summer vacation in the Philippines. Many visitors to Angeles City, Pampanga Clark Philippines prefer to stay in private resorts located in a secure and safe destination. Staying in a private place makes it possible to enjoy a peaceful holiday with no stress.
Subic is a popular destination for visitors from Manila bringing family out of town for a short getaway to the north. Subic is well known for its diving sites, the sea and water sports that come with the territory. However one thing that Subic is not famous for is dining options. For years, visitors to Subic have complained about the quality of the restaurants and dining establishments but it is only until recently that travelers to Subic discovered the best restaurant to wine and dine, even for visitors with families and children.
Where to go in Clark? Hotel Clark Philippines is a De Luxe Hotel in Clark and Subic, a risk free place to stay, cozy and nice ambience, a nice function place for special occassion
You might want to check also the Yats Restaurant is the best restaurant for special dinner, best restaurant for dinner with friends near Manila, also the best place to celebrate special events.
Famous Restaurant in Pampanga, a place to dine with friends in Clark, cozy restaurant with a nice ambience, a nice function place for special occasions. Looking for a restaurant in Clark for a Business meeting? Or a place to eat with friends? Yats Restaurant offers exclusive dinner venue for groups, a good place to celebrate special occasions, it can be a party venue in town. Yats Restaurant is a recommended restaurant for private dinner in Philippines, a well-recognized restaurant that serves good food and good wines for dinner.
Are you looking for an attractive restaurant or a nice place to eat with friends in Clark, Angeles City Pampanga? Yats Restaurant and Wine Bar is a restaurant with good food and good wines for dinner located at Clark Angeles City Pampanga. Perfect for exclusive dinner venues for groups, recommended for private dinner in Philippines. A Restaurant in Clark for business dinner meeting. Private dinner place or dinner restaurant in Clark Subic Near Manila Angeles City Pampanga. Yats Restaurant is one of the Good Restaurant in Pampanga Angeles City Clark near Manila.
Looking for interesting hotels near Manila Subic Clark Angeles City Pampanga?
Trouble free hotels and well recognized hotels in Subic Clark Angeles City Pampanga
Clearwater Resort and Country Club offers a good place to stay in Subic Clark Angeles City Pampanga. In offers nice place to have rest in Subic Pampanga outside Manila.
One of the Philippines top hotels in north Luzon.
This web site contains articles and information that will be helpful to visitors, residents and tourists traveling out of town from Manila on a short getaway to Subic, Angeles City, Pampanga and Clark Philippines. There are several web sites that contain information that might also be pertinent to what is happening in North Luzon, Subic, Tarlac, Pampanga, Clark Freeport Philippines.
Looking for a party venue in town?
Clearwater Resort and Country Club is one of the ideal venues for birthday party because it is a risk free venue. Not only Birthday Parties but also a good place to enjoy family reunion. A good place to celebrate special occasions. Clearwater Resort and Country Club is one of the resorts in Subic Clark Angeles City Pampanga or near Manila with activity amenities, place that are nice for celebration.
Wedding couples looking for wedding reception venues and beach wedding venues can log on to this Philippines Wedding Venue web site for free information and assistance:

For assistance with lodgings, accommodations, hotels and resorts near Manila in Subic, Pampanga, Angels City and Clark Philippines log on to http://www.HotelClarkPhilippines.com
While in Clark, one might as well add to the itinerary a visit to the famous Clark Wine Center, the largest wine shop in Philippines which offers over 2000 selections of fine vintage wine from all wine regions, vintages spanning over 50 years covering all price ranges.
Search
Contact Clark Philippines
Politics & Opinion
Promote Your Business
Recent News & Press Releases
What's Happening in Clark
Flight Schedules
Diosdado Macapagal International Airport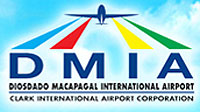 Check flight schedules to and from Clark Freeport
here
Exchange Rate
<!-Currency Converter widget - HTML code - fx-rate.net -->
   Philippine Peso Exchange Rate
<!-end of code-->
Clark Pampanga Weather
<!-Weather in Angeles City, Philippines on your site - HTML code - weatherforecastmap.com -- ><!-end of code-->