SAN FERNANDO, Pampanga- Typhoon Gener left close to P20 million worth of planted rice in this province, where 120 barangays in 10 towns remained flooded as of yesterday.
In a report, Marrian Austria of the Provincial Disaster and Risk Reduction Council (PDRRMC) said 1,635 rice farmers were affected by Gener's floods that partially damaged 951 hectares of their crops and totally damaged another 1,758 hectares in Mabalacat, Magalang, Bacolor, San Fernando, Lubao, San Luis and, Candaba.
This is apart from losses worth P7.2 million sustained by 175vegetable farmers tilling 111.6 hectares, the report said.
The PDRRMC said that the affected rice farmers reported farm input losses worth P11 million while estimating the farm gate value of their crops at P19.4 million.
Intermittent rains persisted yesterday over wide areas in Pampanga even as Gener had left the country, but many barangays in 10 towns of the province remained flooded.
Still under water as of yesterday were 25 barangays in Lubao, 14 in Guagua, 25 in Macabebe, 21 in Masantol, 15 in Minalin, seven in Sto. Tomas, four in San Simon, four in Apalit, two in Candaba, and two in Bacolor.
The PDRRMC said two fishpond operators reported heavy losses in their tilapia, crab, shrimp, and bangus fish farms, but there was no estimate of losses in terms of pesos.
http://punto.com.ph/News/Article/15029/Volume-6-No-29/Headlines/Gener-leaves-over-P20-M-in-crop-damages-in-Pampanga
Recent surge of investments going into Clark Philippines drained Clark Freeport of prime land available for long-term leases. Investors now look for partnerships and acquisition opportunities with existing businesses located in Clark Philippines. Clark Pampanga is a fast growing city and businesses in Manila are making their move to either expand into or relocate to Clark Philippines.
Three new casinos, another world-class 36-hole golf course, several new hotels and resorts of varying class of luxury have opened in Philippines Clark Freeport over the last six months. Samsung Electronics just broke ground for a US$5 billion electronics plant, coincidentally in a location adjacent to the US$2 billion plant of US chip manufacturer Texas Instruments. Hundreds of hectares of prime land in the 4200-hectare main zone of Clark Freeport have quickly been occupied. Almost the entire central business district has gone off the map of available land in this fast-growth investment destination.
With its near-zero crime rate, low pollution levels, absence of traffic congestion and a favorable tax structure, Clark Freeport is well known among foreign investors as the destination of choice. Now that the Clark International Airport (DMIA) has flung into full operations with dozens of flights linking Clark to all major cities in Asia and some beyond, Clark Freeport, Pampanga has come of age.
Where to go in Clark? Hotel Clark Philippines is a De Luxe Hotel in Clark and Subic, a risk free place to stay, cozy and nice ambience, a nice function place for special occasion
You might want to check also the Yats Restaurant is the best restaurant for special dinner, best restaurant for dinner with friends near Manila, also the best place to celebrate special events.
Famous Restaurant in Pampanga, a place to dine with friends in Clark, cozy restaurant with a nice ambience, a nice function place for special occasions. Looking for a restaurant in Clark for a Business meeting? Or a place to eat with friends? Yats Restaurant offers exclusive dinner venue for groups, a good place to celebrate special occasions, it can be a party venue in town. Yats Restaurant is a recommended restaurant for private dinner in Philippines, a well-recognized restaurant that serves good food and good wines for dinner.
Are you looking for an attractive restaurant or a nice place to eat with friends in Clark, Angeles City Pampanga? Yats Restaurant and Wine Bar is a restaurant with good food and good wines for dinner located at Clark Angeles City Pampanga. Perfect for exclusive dinner venues for groups, recommended for private dinner in Philippines. A Restaurant in Clark for business dinner meeting. Private dinner place or dinner restaurant in Clark Subic Near Manila Angeles City Pampanga. Yats Restaurant is one of the Good Restaurant in Pampanga Angeles City Clark near Manila.
Looking for a party venue in town?
Clearwater Resort and Country Club is one of the ideal venues for birthday party because it is a risk free venue. Not only Birthday Parties but also a good place to enjoy family reunion. A good place to celebrate special occasions. Clearwater Resort and Country Club is one of the resorts in Subic Clark Angeles City Pampanga or near Manila with activity amenities, place that are nice for celebration.
This web site contains articles and information that will be helpful to visitors, residents and tourists traveling out of town from Manila on a short getaway to Subic, Angeles City, Pampanga and Clark Philippines. There are several web sites that contain information that might also be pertinent to what is happening in North Luzon, Subic, Tarlac, Pampanga, Clark Freeport Philippines.
Looking for interesting hotels near Manila Subic Clark Angeles City Pampanga?
Trouble free hotels and well recognized hotels in Subic Clark Angeles City Pampanga
Clearwater Resort and Country Club offers a good place to stay in Subic Clark Angeles City Pampanga. In offers nice place to have rest in Subic Pampanga outside Manila.
One of the Philippines top hotels in north Luzon.
Wedding couples looking for wedding reception venues and beach wedding venues can log on to this Philippines Wedding Venue web site for free information and assistance:

For assistance with lodgings, accommodations, hotels and resorts near Manila in Subic, Pampanga, Angels City and Clark Philippines log on to http://www.HotelClarkPhilippines.com
While in Clark, one might as well add to the itinerary a visit to the famous Clark Wine Center, the largest wine shop in Philippines which offers over 2000 selections of fine vintage wine from all wine regions, vintages spanning over 50 years covering all price ranges.
Search
Contact Clark Philippines
Politics & Opinion
Promote Your Business
Recent News & Press Releases
What's Happening in Clark
Flight Schedules
Diosdado Macapagal International Airport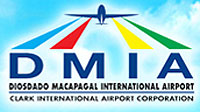 Check flight schedules to and from Clark Freeport
here
Exchange Rate
<!-Currency Converter widget - HTML code - fx-rate.net -->
   Philippine Peso Exchange Rate
<!-end of code-->
Clark Pampanga Weather
<!-Weather in Angeles City, Philippines on your site - HTML code - weatherforecastmap.com -- ><!-end of code-->