CLARK FREEPORT – Are members of the US Federal Bureau of Investigation (FBI) and other American intelligence units holding office and interrogating detainees at the PNP Custodial Center in Camp Crame?
Militant groups said yesterday they are, and they want PNP Director General Nicanor Bartolome to explain why.
The Pambansang Lakas ng Kilusang Mamamalakaya ng Pilipinas (Pamalakaya) and Anakpawis party list cited a letter sent by "political prisoner" Alan Jazmines to human rights group Karapatan saying that "elements of FBI and other intelligence agencies of US are being allowed to interrogate political detainees suspected of having links with alleged terrorist organizations."
"The PNP chief should not tell us the FBIs are there for a visiting stint under the Visiting Forces Agreement (VFA) or Washington's intelligence operatives are there to attend a cocktail party inside the police custodial center," Pamalakaya chair Fernando Hicap said.
Hicap said "Bartolome should reveal who instructed him to allow the US FBI to hold office in and transform the police custodial center into an interrogation center of Washington D.C in the country."
He said it is likely that the presence of the American agents at Camp Crame had the blessings of the Office of the President, the Department of National Defense, and the Department of Foreign Affairs.
Jazmines, a political consultant of the National Democratic Front of the Philippines (NDFP) in the peace talks with the Government of the Philippines (GPH), also claimed that three of the prisoners detained at the custodial center were Indonesian nationals who were arrested in Malaysia and Indonesia, and who were apparently brought to the prison facility in the country allegedly at the behest of the US government.
He claimed that the Indonesians were given false Filipino identities to 'legalize' their detention in PNP Custodial Center.
"The intelligence operations of the FBI within the sovereign territory of the Philippines are being undertaken underhandedly and without the Filipino people's full knowledge.
The absence of a formal treaty allowing such operations makes such spy operations and renditions illegal even from the point of view of the laws of the reactionary Philippine government," Jazmines said in his letter.
Hicap, also the vice-chairperson of Anakpawis party list, said "the PNP leadership should break their silence on the issue of allowing the US FBI agents to conduct covert intelligence operations inside the Philippine territory."
"Worse, it (PNP) has offered the country's detention facilities for political interrogations and imprisonment of individuals suspected by the US government of having links with terrorist organizations," he lamented.
Pamalakaya and Anakpawis urged the Senate and the House of Representatives to "conduct a joint or separate congressional inquiry on the reported clandestine operations and basing of US FBI agents inside the PNP Custodial Center in Camp Crame."
http://punto.com.ph/News/Article/14652/Volume-6-No-11/Headlines/Groups-say-FBI-other-US-agents-operating-at-Camp-Crame-interrogating-detainees
Pampanga Angeles City and Clark Philippines is a popular choice for event organizers and company event planners because it is safe, secure and conveniently accessible from Manila. The short travel time from Manila to Clark means there is more time for participants to enjoy the programs, relax and unwind in the outdoor facilities of this highly recommended resort hotel in Clark.
Travelers going north to Clark Pampanga frequently look for enjoyable hotel for family bonding during summer vacation in the Philippines. Many visitors to Angeles City, Pampanga Clark Philippines prefer to stay in private resorts located in a secure and safe destination. Staying in a private place makes it possible to enjoy a peaceful holiday with no stress.
Subic is a popular destination for visitors from Manila bringing family out of town for a short getaway to the north. Subic is well known for its diving sites, the sea and water sports that come with the territory. However one thing that Subic is not famous for is dining options. For years, visitors to Subic have complained about the quality of the restaurants and dining establishments but it is only until recently that travelers to Subic discovered the best restaurant to wine and dine, even for visitors with families and children.
Where to go in Clark? Hotel Clark Philippines is a De Luxe Hotel in Clark and Subic, a risk free place to stay, cozy and nice ambience, a nice function place for special occassion
You might want to check also the Yats Restaurant is the best restaurant for special dinner, best restaurant for dinner with friends near Manila, also the best place to celebrate special events.
Famous Restaurant in Pampanga, a place to dine with friends in Clark, cozy restaurant with a nice ambience, a nice function place for special occasions. Looking for a restaurant in Clark for a Business meeting? Or a place to eat with friends? Yats Restaurant offers exclusive dinner venue for groups, a good place to celebrate special occasions, it can be a party venue in town. Yats Restaurant is a recommended restaurant for private dinner in Philippines, a well-recognized restaurant that serves good food and good wines for dinner.
Are you looking for an attractive restaurant or a nice place to eat with friends in Clark, Angeles City Pampanga? Yats Restaurant and Wine Bar is a restaurant with good food and good wines for dinner located at Clark Angeles City Pampanga. Perfect for exclusive dinner venues for groups, recommended for private dinner in Philippines. A Restaurant in Clark for business dinner meeting. Private dinner place or dinner restaurant in Clark Subic Near Manila Angeles City Pampanga. Yats Restaurant is one of the Good Restaurant in Pampanga Angeles City Clark near Manila.
Looking for interesting hotels near Manila Subic Clark Angeles City Pampanga?
Trouble free hotels and well recognized hotels in Subic Clark Angeles City Pampanga
Clearwater Resort and Country Club offers a good place to stay in Subic Clark Angeles City Pampanga. In offers nice place to have rest in Subic Pampanga outside Manila.
One of the Philippines top hotels in north Luzon.
This web site contains articles and information that will be helpful to visitors, residents and tourists traveling out of town from Manila on a short getaway to Subic, Angeles City, Pampanga and Clark Philippines. There are several web sites that contain information that might also be pertinent to what is happening in North Luzon, Subic, Tarlac, Pampanga, Clark Freeport Philippines.
Looking for a party venue in town?
Clearwater Resort and Country Club is one of the ideal venues for birthday party because it is a risk free venue. Not only Birthday Parties but also a good place to enjoy family reunion. A good place to celebrate special occasions. Clearwater Resort and Country Club is one of the resorts in Subic Clark Angeles City Pampanga or near Manila with activity amenities, place that are nice for celebration.
Wedding couples looking for wedding reception venues and beach wedding venues can log on to this Philippines Wedding Venue web site for free information and assistance:

For assistance with lodgings, accommodations, hotels and resorts near Manila in Subic, Pampanga, Angels City and Clark Philippines log on to http://www.HotelClarkPhilippines.com
While in Clark, one might as well add to the itinerary a visit to the famous Clark Wine Center, the largest wine shop in Philippines which offers over 2000 selections of fine vintage wine from all wine regions, vintages spanning over 50 years covering all price ranges.
Search
Contact Clark Philippines
Politics & Opinion
Promote Your Business
Recent News & Press Releases
What's Happening in Clark
Flight Schedules
Diosdado Macapagal International Airport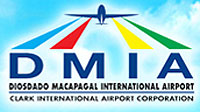 Check flight schedules to and from Clark Freeport
here
Exchange Rate
<!-Currency Converter widget - HTML code - fx-rate.net -->
   Philippine Peso Exchange Rate
<!-end of code-->
Clark Pampanga Weather
<!-Weather in Angeles City, Philippines on your site - HTML code - weatherforecastmap.com -- ><!-end of code-->