Hot Air Balloon Enthusiasts must take special interest in the article below. The Fun Facts specially would amaze you a little because of the very fact that the article talks about. Read on and enjoy the facts about your Favourite Sport of Hot air balloons.
1. Hot air balloons were discovered in France in 1783.
2. It was discovered that a fabric bag filled with hot air would rise.
3. Initially Balloons without any Passengers were sent up.
4. Then, animals of all sorts were used for experimenting like a sheep, rooster, and duck, to be sent high up.
5. Finally, they sent up a balloon with two men in it. It traveled over Paris for 5.5 miles. It stayed up 23 minutes.
6. This was the first attempt made by man to fly. Bravo!
7. Balloons have been important in science as they have helped us study the weather and the atmosphere.
8. Hot Air Balloon has a Special basket for passengers to sit in it.
9. It has flying wires to attach the basket to the balloon.
10. The skirt helps direct the hot air into the balloon.
11. Each long section of the Hot Air Balloon is called the gore.
12. Smaller pieces of the gore are called panels.
13. A Parachute is placed right at the top of each Hot Air Balloon.
Some Fun Facts about Hot Air Balloons….
Let us know about the Fun Facts about the much enjoyed adventure sport these days – Hot Air Balloons.
1. Balloon pilots need a commercial pilot's license (fixed-wing). They must have at least 35 hours of flight instruction, attend ground school for basic aviation training, pass a written test for hot-air balloons and have a flight check from a Federal Aviation Administration official.
2. According to the FAA, balloons must meet air-traffic control requirements if they are in a controlled air-space, and pilots must have radio contact with controllers.
3. There are no official safety requirements for passengers, but passengers should know with whom they're flying and their qualifications.
4. Accidents are rare, especially in the Northwest. The only serious injuries for the area — found in a check of National Transportation Safety Board balloon accident reports back to 1984 — were a broken leg and a broken ankle, both from rough landings.
5. Hot air balloons don't fly in the rain because balloon heat can cause water to boil atop the balloon, and boiling water destroys the fabric.
6. Area balloon operators can carry from two to 10 passengers at a time, depending on balloon size.
7. Children under 5 usually aren't allowed.
8. Ballooning is not a silent sport. There are some quiet moments, but those burners are noisy.
9. Balloonists dress like hikers: Pants, sturdy flat shoes and layers of shirt, sweater, jacket, for example. Carry cameras and lots of film.
Source: http://www.hotairballoons.com/hot_air_balloon_facts.asp
Residents of Manila and Angeles City Pampanga are looking for a safe and convenient place to celebrate special occasions or take a shot vacation in the Philippines. Many travel north to Clark to swim at Clearwater Beach Resort which also has lake and picnic grounds to unwind and relax, a very good way to spend quality time with the family and children. Fine dining Yats Restaurant offers sumptuous cozy Christmas dinner, for wine lovers, Clark Wine Center provides exciting shopping options.
Clark Philippines also known as Clark Freeport Zone is now the preferred destination for foreign and local investments because it offers many attractive advantages including tax, safety and its own international airport
Where to go in Clark? Hotel Clark Philippines is a De Luxe Hotel in Clark and Subic, a risk free place to stay, cozy and nice ambience, a nice function place for special occasion
You might want to check also the Yats Restaurant is the best restaurant for special dinner, best restaurant for dinner with friends near Manila, also the best place to celebrate special events.
Famous Restaurant in Pampanga, a place to dine with friends in Clark, cozy restaurant with a nice ambience, a nice function place for special occasions. Yats Restaurant is one of the good restaurants in Pampanga, a restaurant with good food, a place that is nice for celebration, ideal for business dinner meeting, a good place to enjoy family reunion, and an attractive restaurant that serves good wines for dinner.
Are you looking for an attractive restaurant or a nice place to eat with friends in Clark, Angeles City Pampanga? Yats Restaurant and Wine Bar is a restaurant with good food and good wines for dinner located at Clark Angeles City Pampanga. Perfect for exclusive dinner venues for groups, recommended for private dinner in Philippines. A Restaurant in Clark for business dinner meeting. Private dinner place or dinner restaurant in Clark Subic Near Manila Angeles City Pampanga. Yats Restaurant is one of the Good Restaurant in Pampanga Angeles City Clark near Manila.
The advantages for making the move from a country like UK, USA, Japan, Korea, Hong Kong, Singapore and Australia for example, to a country like Philippines are enormous. Heavily in your favor are factors like asset values differentials and substantial reduction in cost of living. Selling off your home probably gives you enough capital to not only live comfortably in a bigger property in Philippines but also to re-establish yourself in the business community by starting a business here too.
Looking for a party venue in town?
Clearwater Resort and Country Club is one of the ideal venues for birthday party because it is a risk free venue. Not only Birthday Parties but also a good place to enjoy family reunion. A good place to celebrate special occasions. Clearwater Resort and Country Club is one of the resorts in Subic Clark Angeles City Pampanga or near Manila with activity amenities, place that are nice for celebration.
This web site contains articles and information that will be helpful to visitors, residents and tourists traveling out of town from Manila on a short getaway to Subic, Angeles City, Pampanga and Clark Philippines. There are several web sites that contain information that might also be pertinent to what is happening in North Luzon, Subic, Tarlac, Pampanga, Clark Freeport Philippines.
Looking for interesting hotels near Manila Subic Clark Angeles City Pampanga?
Trouble free hotels and well recognized hotels in Subic Clark Angeles City Pampanga
Clearwater Resort and Country Club offers a good place to stay in Subic Clark Angeles City Pampanga. In offers nice place to have rest in Subic Pampanga outside Manila.
One of the Philippines top hotels in north Luzon.
Wedding couples looking for wedding reception venues and beach wedding venues can log on to this Philippines Wedding Venue web site for free information and assistance:

For assistance with lodgings, accommodations, hotels and resorts near Manila in Subic, Pampanga, Angels City and Clark Philippines log on to http://www.HotelClarkPhilippines.com
While in Clark, one might as well add to the itinerary a visit to the famous Clark Wine Center, the largest wine shop in Philippines which offers over 2000 selections of fine vintage wine from all wine regions, vintages spanning over 50 years covering all price ranges.
Search
Contact Clark Philippines
Politics & Opinion
Promote Your Business
Recent News & Press Releases
What's Happening in Clark
Flight Schedules
Diosdado Macapagal International Airport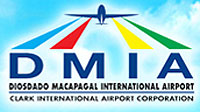 Check flight schedules to and from Clark Freeport
here
Exchange Rate
<!-Currency Converter widget - HTML code - fx-rate.net -->
   Philippine Peso Exchange Rate
<!-end of code-->
Clark Pampanga Weather
<!-Weather in Angeles City, Philippines on your site - HTML code - weatherforecastmap.com -- ><!-end of code-->