During most of the year, Manila residents have no trouble getting to Clark or Angeles City, Pampanga. Some like to drive up from Manila taking the refurbished North Luzon Express, or NLEX, while others prefer to take the bus service from Cubao, Manila to the Dau bus terminal in Angeles City.
For the week of 8th to 12th February, getting to Clark requires much more work. The city of Clark Philippines is not accustomed to receiving thousands of visitors each day. But that is probably what will happen during the week of the 17th Philippines Hot Air Balloon Festival in Clark.

Visitors from Manila can take the commuter bus to get to Dau bus terminal in Angeles City. From there, jeepneys will take them to the main gate of Clark where they can alight and board a jeepney that will take them from the main gate to the Clark Hot Air Balloon Festival site. Normally, this three-ride connection should bring visitors into Clark from the bus terminal in Cubao Manila in a little over two hours. (Information on costs and schedules can be found on the web site listed above also.)
In previous events, visitors experienced problems catching the connecting rides after the bus arrived in Angeles city, especially during Saturday and Sunday of the Hot Air Balloon Festival weekend. These problems are no comparison to the difficulties in getting a jeepney ride leaving the Clark Hot Air Balloon Fiesta site to get back to the bus terminal in Angeles City for the ride back to Manila. Many visitors were stranded for literally hours waiting to get out of Clark.
For the 2012 Clark Hot Air Balloon Festival, visitors, especially families with children planning to travel by bus to Angeles City, Pampanga are well advised to plan their trips carefully.
HOT AIR BALLOON SHUTTLE BUS SERVICE
This year a special Hot Air Balloon bus service is available. Participants board the special bus in a designated pickup location in Manila and travel to Clark in comfort, resting up during the 90-minute journey arriving refreshed and ready to enjoy the festivities of the Hot Air Balloon Festival in Clark. Visitors arrive at the entrance of the 2012 Hot Air Balloon Fiesta site in Clark and catch the shuttle service at the Clark Wine Center near to the site to return to Manila.

Tickets to this special Hot Air Balloon Fiesta bus service must be purchased in advance. Round-trip ticket price is p550 (no one-way ticket available). Only a small number of seats are available and once tickets are sold out, no more will be made available.
click here to order your Hot Air Balloon Bus Tickets now.
Ticket holders will board the bus between 6:45 to 7am in Ortigas Metro Manila, opposite the Philippines Stock Exchange Center (Tektite) where there is plenty of public parking. The Hot Air Balloon Festival shuttle will depart promptly so please arrive on time. Those who miss the departure may still board the bus for the return trip from Clark back to Manila. The bus will depart from Clark at 5:30pm expecting to arrive in Manila by 7 to 7:30pm. (Any last-minute schedule adjustments will be communicated to ticket holders via email and/or phone.)
Smart tourists would probably choose to avoid the weekend and check in on Wednesday or Thursday to avoid the crowds. Rooms may still be available but many tourists and local residents travelling north from Manila are booking them fast.
Clearwater Resort is one of the most sought after hotel accommodations for visitors attending the 2012 Hot Air Balloon Festival in Clark. Many visitors hope to savor the laidback suburban lifestyle of this city which not so long ago was the largest US airbase outside of America. Guests of this resort hotel in Clark get to relax and unwind around the beautiful lake of Clark. Some enjoy one of several swim spots including a white-sand beach with adjoining swimming lagoons. Families with children particularly enjoy the vast picnic grounds laced with century-old Acacia trees.
Clearwater Resort and Country Club
Creekside Road near Centennial Expo, Clark Freeport
(045)599-5949 0917-520-4403 0922-870-5177 Joanne, Jeremy or Marilou
To make inquiries and bookings with this hotel in Clark Pampanga, click here to contact Clearwater Resort now
concierge@ClearwaterPhilippines.com
Don't let problems put a damper on the thrills and excitement of the 2012 Hot Air Balloon Fiesta in Clark, Pampanga. Set up the trip well in advance and enjoy this famous annual festival in style and comfort.
Yats International Leisure Philippines
3003C East Tower, Philippines Stock Exchange Center,
Exchange Road, Ortigas, Metro Manila, Philippines 1605
(632) 633-1566 0917-540-3626 0917-530-6242 ask for Rea or Joann
This year there are several packages that make it easier and more comfortable for everyone to enjoy the 2012 Clark Hot Air Balloon Fiesta. These packages address visitors' requirements for hotel accommodation, bus transfers, parking, getting their admission tickets in advance to avoid long lines at the gate, lunch, breakfast and other dining facilities. Visitors are well advised to purchase tickets to these special services in advance because it is unlikely that all the visitors can be accommodated.
Click here to check out the new deals, promotions and packages for 2012 Hot Air Balloon Fiesta in Clark Philippines
This is one event in 2012 that no one should miss but it is also one festival that you should not presume to enjoy without being smart about making advanced arrangements and bookings well before you arrive in Clark Philippines.
Click here for programs of the 2012 Hot Air Balloon Fiesta in Clark Philippines
Hot Line for what's happening in Clark: 045 889-5151.
Search
Contact Clark Philippines
Politics & Opinion
Promote Your Business
Recent News & Press Releases
What's Happening in Clark
Flight Schedules
Diosdado Macapagal International Airport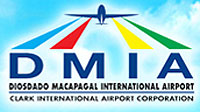 Check flight schedules to and from Clark Freeport
here
Exchange Rate
<!-Currency Converter widget - HTML code - fx-rate.net -->
   Philippine Peso Exchange Rate
<!-end of code-->
Clark Pampanga Weather
<!-Weather in Angeles City, Philippines on your site - HTML code - weatherforecastmap.com -- ><!-end of code-->