CLARK FREEPORT, Pampanga — At least P100 million additional investments are expected to be poured in by various industries inside this premier port, the Clark Development Corporation (CDC) reported.
"Major projects are in the pipeline to the Board of Investments (BOI),"CDC said.
In his report to the BOI, CDC President Felipe Antonio Remollo bared that the projects range from tourism, residential, commercial, manufacturing, and aviation-related industries, and each carries investment commitments of more than P100 million, "and will most likely be implemented within the year."
The report came after the state-owned CDC remitted P100 million to the government coffers.
Of the 19 major projects included in the report, 10 are into industrial-manufacturing.
"This is a subtle reminder that the Clark's industrial cluster is, and will continue to be, the Freeport's most robust sector," the report said.
These projects, according to Remollo, include expansion projects of Japan-based tire manufacturing plant Yokohama Tire Philippines, Inc. (YTPI), Korean firm Donggwang's recreational and leisure estate project, and the Philippine Academy for Aviation Training (PAAT), which broke ground last month in the presence of President Benigno Simeon C. Aquino III.
Remollo added that the report also included the hotel and casino complex of Eagle Sky Amusement & Gaming (ESTAG), Go-Hotel Project of Robinsons Land Corporation, Mixed Use Commercial Facilities of Hausland Development, and the 3-hectare warehousing project of the MSK Group Work Inc., and the lighting manufacturing plant of Venzon Manufacturing.
According to Remollo, ESTAG aims to put up a P1.5-billion hotel and casino complex inside a 1.5 hectare area near the Clark International Airport while Robinson's Land Corporation plans to infuse P300 million to append Clark in its growing list of locations for its successful Go-Hotel chain.
http://www.mb.com.ph/articles/353809/p100m-more-clark-investments-seen
Good hotel accommodation in Clark is available for Manila residents and tourists looking for good resorts in Pampanga for vacations and holidays in Philippines. Clearwater Resort is one of the best resorts in Pampanga that is lauded by Manila residents for its safe and clean outdoor facilities that are perfect for family bonding or for stressed out Manila residents to relax and unwind during a weekend in the north. Many guests of this hotel in Clark Pampanga enjoy fishing in the lake or their fishing pond located next to the outback tents hotel accommodation. Clearwater appears frequently on the top of a list of the best hotels in Pampanga. Function room for meetings and seminars is also available in this popular resort in Clark Philippines.
Tourists and residents of Manila travel out of town to the north on a short getaway look for the best place in Clark for rest and relaxation.
Companies, even organizers, wedding planners and families are looking for Resorts and beaches near Manila for events and retreats. Frequently visited destinations for vacation spots this summer in Philippines are found in Angeles City, Clark, Pampanga, which is very accessible from Manila, Subic and Cebu.
Frequent travelers and visitors staying in Angeles City Pampanga Clark Philippines look for restaurants, coffee shops, bars, pubs, hotels and resorts in Clark that offer free internet connection to guests. There are some highly recommended places in Clark that offer good WIFI internet services.
Where to go in Clark? Hotel Clark Philippines is a De Luxe Hotel in Clark and Subic, a risk free place to stay, cozy and nice ambience, a nice function place for special occasion
You might want to check also the Yats Restaurant is the best restaurant for special dinner, best restaurant for dinner with friends near Manila, also the best place to celebrate special events.
Famous Restaurant in Pampanga, a place to dine with friends in Clark, cozy restaurant with a nice ambience, a nice function place for special occasions. Looking for a restaurant in Clark for a Business meeting? Or a place to eat with friends? Yats Restaurant offers exclusive dinner venue for groups, a good place to celebrate special occasions, it can be a party venue in town. Yats Restaurant is a recommended restaurant for private dinner in Philippines, a well-recognized restaurant that serves good food and good wines for dinner.
Are you looking for an attractive restaurant or a nice place to eat with friends in Clark, Angeles City Pampanga? Yats Restaurant and Wine Bar is a restaurant with good food and good wines for dinner located at Clark Angeles City Pampanga. Perfect for exclusive dinner venues for groups, recommended for private dinner in Philippines. A Restaurant in Clark for business dinner meeting. Private dinner place or dinner restaurant in Clark Subic Near Manila Angeles City Pampanga. Yats Restaurant is one of the Good Restaurant in Pampanga Angeles City Clark near Manila.
Yats Restaurant and Wine Bar has its own special attraction for January 2010. Featured on the "special" menu are luxurious items that are guaranteed to make the dinners memorable. Saturdays in January are BYOB dinners which means that wine lovers can bring their own bottles to dine at Yats Restaurant without being charged corkage. BYO (Bring Your Own) is a special theme of Yats Restaurant which offers the biggest selection of fine and everyday wines anywhere in Asia.
http://www.YatsRestaurant.com
Looking for a party venue in town?
Clearwater Resort and Country Club is one of the ideal venues for birthday party because it is a risk free venue. Not only Birthday Parties but also a good place to enjoy family reunion. A good place to celebrate special occasions. Clearwater Resort and Country Club is one of the resorts in Subic Clark Angeles City Pampanga or near Manila with activity amenities, place that are nice for celebration.
This web site contains articles and information that will be helpful to visitors, residents and tourists traveling out of town from Manila on a short getaway to Subic, Angeles City, Pampanga and Clark Philippines. There are several web sites that contain information that might also be pertinent to what is happening in North Luzon, Subic, Tarlac, Pampanga, Clark Freeport Philippines.
Looking for interesting hotels near Manila Subic Clark Angeles City Pampanga?
Trouble free hotels and well recognized hotels in Subic Clark Angeles City Pampanga
Clearwater Resort and Country Club offers a good place to stay in Subic Clark Angeles City Pampanga. In offers nice place to have rest in Subic Pampanga outside Manila.
One of the Philippines top hotels in north Luzon.
Wedding couples looking for wedding reception venues and beach wedding venues can log on to this Philippines Wedding Venue web site for free information and assistance:

For assistance with lodgings, accommodations, hotels and resorts near Manila in Subic, Pampanga, Angels City and Clark Philippines log on to http://www.HotelClarkPhilippines.com
While in Clark, one might as well add to the itinerary a visit to the famous Clark Wine Center, the largest wine shop in Philippines which offers over 2000 selections of fine vintage wine from all wine regions, vintages spanning over 50 years covering all price ranges.
Search
Contact Clark Philippines
Politics & Opinion
Promote Your Business
Recent News & Press Releases
What's Happening in Clark
Flight Schedules
Diosdado Macapagal International Airport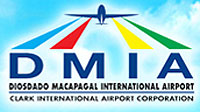 Check flight schedules to and from Clark Freeport
here
Exchange Rate
<!-Currency Converter widget - HTML code - fx-rate.net -->
   Philippine Peso Exchange Rate
<!-end of code-->
Clark Pampanga Weather
<!-Weather in Angeles City, Philippines on your site - HTML code - weatherforecastmap.com -- ><!-end of code-->