April 12, 2011
This article is not a quick fix solution on how to sort your life out, however what I like to think of it as is an article designed to improve your life just by doing little things and taking little steps.
The points I'm about to discuss are things I like to do and find that they do make me feel happier, healthier and more balanced. Some of them may seem obvious, some may seem weird and some may seem as though I've put them in just to keep the numbers up. They're not all physical things which you need to do everyday the majority of them are things to do every now and then and others are things to just do once. Please have a read through and let me know what you think, they're not in any order:
1. 7-8 hours of sleep
It is said that the average person needs a minimum of 7 hours of sleep a night to keep a healthy body and mind.
Having the right amount of sleep is very important, it affects all parts of your life including your digestive system, your alertness, immune system, appearance, growth, strength, memory, eye sight and lifespan.
Activities you do before falling asleep can affect your sleep pattern in different ways. Watching TV directly before going to bed can leave your brain too active and will leave you in a light ineffective state of rest. However reading a book before going to sleep can be good for you as it warms up your imagination and will allow you to have better dreams and therefore a deeper sleep giving your body the rest it needs.
The conditions whilst your asleep also affect you, for example a TV being left on is very bad, a flashing screen will damage your eyes and the up and down sound levels will disturb your sleep and leave you cranky in the morning. The same thing applies to sleeping in a light area or leaving the curtains open and letting the sun in the morning, it will not give your eyes the rest they need, your eyelids don't block all the light.
2. Breakfast
As we all have been told "It's the most important meal of the day" and it is, so have it.
I know some people don't always have time to have breakfast but whether its breakfast sat down at home or breakfast on the run it's important to have something. Having a breakfast is important because when you wake up your body hasn't eaten for several hours and is low on 'fuel' to convert into energy and so eating in the morning will give you the start to the day you need, try to avoid eating sugary foods as it will give you a quick boost but after an hour or so your body will crash and you will have no energy again so try eating something slow burning for example cereal, toast, porridge and eggs. It gets your metabolism going and is why recent studies have shown that children who don't eat breakfast are twice as likely to be obese than those who do.
3. Water
In climates like the British Isles, we should be drinking approximately 1.5 litres of water every day to stop us getting dehydrated. In warmer places the body needs more.
These 1.5 litres do not have to be just water they can include other fluids consumed throughout the day but I would discard fizzy drinks from this list as they can dehydrate you rather than re-hydrate. Being well hydrated keeps your body running smoothly, will reduce the chance of headaches and also is important for when you need to carry toxins out of your body through urinating.
4. 5 A Day
I know you've heard this before. Having 5 portions of fruit and veg each day is really important, 5 portions should be the very minimum! You won't get the vitamins minerals blah blah blah from having a bowl of corn flakes a bag of chips and a microwave curry as your breakfast lunch and dinner. These vitamins etc you get from fruit and vegetables are not only important for growth and general physical health but also for mood. Fruit is packed full of energy and grabbing an orange before you leave for work will give you that same boost you get from coffee.
5. Buy a house plant or two
Now I'm sure most people have house plants anyway but let me explain why they're important. As well as making your house look nicer or your office even which will bring your mood up, the plant also produces oxygen and will keep the air of the room fresh and nicer to be in. Stale air can give you dry throats, of course keeping windows open is nice but if it's cold or your in the middle of the city that's not always the best idea. I know some people say that air purifiers do a great job of keeping the air clean if you spend enough money on them but they're expensive, use allot of electricity and look like a high street cigarette bin.
6. Pictures
Pictures of your family, friends and holiday snaps. Everyone has pictures don't they? Yes. However it seems to be coming ever more common that people are using digital cameras which are great but not many people print them or print them using they're home printers which when they're done printing you could of done a perfect hand drawn copy.
So get those pictures printed. It's easy to get them printed; you can now get your prints done online from a range of places. Simply upload your pictures, order, and get them sent in the post. Then get some frames or some blue tack and dot your lovely pictures around: on your desk, on the dresser, on the wall of your bedroom.
7. Talk Don't Text
I'm not saying to never text but having a conversation with someone is so important. You need to have conversations to build up important social skills, you don't want to be sitting with your mates not knowing how to talk with them properly. It's also important for work, learning the skills you do whilst on the phone will come in handy when using the phone at work, not much business is done via text.
8. Exercise
A lot of people have a negative attitude towards exercise and see it as a mundane Bi-weekly visit to the gym but exercise comes in all forms.
I'm against gyms but maybe because of bad experiences, I find them cold, judgmental and pressurizing places. But I do understand why people go to them. If like me the gym isn't your thing then take up a sport there are too many to mention but maybe I'll make another hub to list some and some ways of getting into them. As a general rule 30 mins of exercise a day will keep you healthy enough and apparently increasing your heartbeat for 30 mins a day (e.g. through exercise) will reduce your chances of heart disease by half!
9. Create
No matter how non arty you are or think you are there is always something you can put your heart and soul into making.
Some people paint some people make pottery which if you haven't done either of give ago but if you're not into that area there's plenty of other ways to be creative:
Knit
Sow
Bake
Write
Photography
Draw/Sketch
Gardening
Music/DJ/Play
Cocktails
Home Movie Making
Etc.
There's loads of ways to express your creative side, again I will most probably make a hubpage dedicated to the subject.
10. Be Greener
Trust me it feels good to be green.
It's not hard to do, it doesn't have to change your life but it will make a difference just by doing little things now and then and changing a few parts of your life such as how you dispose of waste, recycle, buy a waterbutt to collect rainwater, buy a water filter rather than buying bottled water for home and don't leave your TV on standby these are just a few suggestions and I am currently writing a step by step guide to how you can become practically carbon neutral, so that should be up soon.
Source: http://hubpages.com/hub/5_Ways_To_Improve_Your_Quality_Of_Life
There are numerous opportunities for investments between US$100,000 and $500,000. These opportunities are especially attractive for semi-retirement lifestyles. The best, easiest and safest way to go about with this kind of investments is to deal with an existing business – a locator as business in Clark is called – so the investor is spared of the hassle of dealing with red-tape and bureaucracy that is always present in third-world countries. The existing locator has already cleared the path so to speak and even if it means asking for small premium for a partnership, it is very much worth the while of a new investor to take this route. Business opportunities depend largely on the skills, interests and experiences of the investors but there is a strong demand for more establishments in these areas: entertainment, shops, office space, construction and engineering services, restaurants and bars, transportation and travel assistance.
Clark Freeport is one of the most attractive business propositions the Philippines has to offer for investors in many kinds of businesses from BPO, hospitality, resorts and leisure facilities to condos, retirement homes, restaurants, bars and shops.
This web site contains articles and information that will be helpful to visitors, residents and tourists traveling out of town from Manila on a short getaway to Subic, Angeles City, Pampanga and Clark Philippines. There are several web sites that contain information that might also be pertinent to what is happening in North Luzon.
For assistance with organizing and planning weddings and garden receptions, log on to http://www.PhilippinesWeddingVenue.com

For assistance with lodgings, accommodations, hotels and resorts near Manila in Subic, Pampanga, Angels City and Clark Philippines log on to http://www.HotelClarkPhilippines.com
While in Clark, one might as well add to the itinerary a visit to the famous Clark Wine Center, the largest wine shop in Philippines which offers over 2000 selections of fine vintage wine from all wine regions, vintages spanning over 50 years covering all price ranges.
Search
Contact Clark Philippines
Politics & Opinion
Promote Your Business
Recent News & Press Releases
What's Happening in Clark
Flight Schedules
Diosdado Macapagal International Airport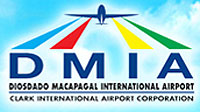 Check flight schedules to and from Clark Freeport
here
Exchange Rate
<!-Currency Converter widget - HTML code - fx-rate.net -->
   Philippine Peso Exchange Rate
<!-end of code-->
Clark Pampanga Weather
<!-Weather in Angeles City, Philippines on your site - HTML code - weatherforecastmap.com -- ><!-end of code-->