For the nth time, business tycoon Manuel V. Pangilinan has reiterated his backing for the development of the Clark International Airport, the future premier international gateway of the country: "The country needs a new international airport and Clark is the best bet."
Post your condolences to Dolphy's family
The miniscule Ninoy Aquino International Airport (Naia) has inadvertently caused aircraft congestion, flight delays, wasted aircraft fuel as incoming airlines circles Metro Manila before descending what Pangilinan described as a "shake, rattle and roll" runway.
Is it really craggy like the limestone of Palawan?
The Clark airport, now a beehive of activities, will soon welcome its five millionth passenger.
After the Americans left the sprawling military complex, I, along with Bulacan reporter Orlan Mauricio, climbed the steep stairs of the former US MAC Terminal tower and had the rare chance to view the devastation wrought by Mount Pinatubo 360 degrees. The whole of Clark had been blanketed with thick volcanic sediments – an eerie gray desolate landscape.
From a mere 2,107 international passengers in 2001, the Clark airport now recorded over 400,000 as of June 2012. There had been a 35 percent increase in international and domestic aircraft movement in the first five months of 2012 compared to the same period last year or 4,169 flights (2012) from 3,098 flights (2011).
On the international and domestic passenger volume, there had been a 52 percent increase in the first five months of 2012 compared to the same period last year or 491,903 passengers (2012) from 323,087 passengers (2011).
The entry of more domestic flights by AirAsia Philippines, Airphil Express and Seair furthered increase connectivity and passenger volume at the Clark airport. In May alone, Clark airport posted a 607 percent increase in domestic aircraft movement compared from the previous year or 424 domestic flights from 60.
The development of the Clark airport as premier gateway of the country is most feasible.
That is why MVP had been supporting its full operationalization. "I am a Kapampangan," according to MVP who expressed his desire to build the second terminal for the Clark International Airport and the support facilities like the modern railway system that will provide for a seamless transport system between Clark and Metro Manila all the way to the South.
Meanwhile, Cebu Pacific VP for Marketing and Distribution Candice Iyog visited Clark on Friday and revealed that more aircraft are coming their way such as the A330 which is slated to take off for long-haul flights.
The fleet expansion of Cebu Pacific will reportedly serve markets outside Asia Pacific, including European destinations, the Middle East, Oceania and the United States.
The CEB's long-haul operations are slated in the second half of 2013 with A330s flying on the first Trent engines.
http://www.sunstar.com.ph/pampanga/business/2012/07/01/san-pedro-clark-best-bet-229658
Residents or Manila travel out of town to head north to Pampanga to relax, unwind and spend a few nights in the new hotel rooms situated right on the lake of Clearwater Resort in Clark Airbase. Many visitors and tourists enjoy the feeling of waking up by the lake. The sunrise produces a spectacular sight with the sunlight reflection on the calm surface of the three-hectare fresh water lake of this famous resort in Clark.
Families with small children prefer outdoor hotel in Manila, clean and safe place in Pampanga Clark to bring kids to relax and unwind. Outdoor space is an important criterion affecting the selection of a suitable hotel in Clark Pampanga for family bonding or to relax and unwind with friends. Best hotel in Clark Pampanga offers good outdoor facilities, large picnic grounds, lake and beach and other outdoor amenities making it possible for guests of this frequently visited hotel in Clark to relax and unwind with no stress.
The safest getaway destination vacation spot near Manila convenient safe and accessible is Clearwater Beach Resort in Clark Pampanga, great for family bonding, hang out to unwind and relax near lake and trees, camping too.
Where to go in Clark? Hotel Clark Philippines is a De Luxe Hotel in Clark and Subic, a risk free place to stay, cozy and nice ambience, a nice function place for special occasion
Are you looking for an attractive restaurant or a nice place to eat with friends in Clark, Angeles City Pampanga? Yats Restaurant and Wine Bar is a restaurant with good food and good wines for dinner located at Clark Angeles City Pampanga. Perfect for exclusive dinner venues for groups, recommended for private dinner in Philippines. A Restaurant in Clark for business dinner meeting. Private dinner place or dinner restaurant in Clark Subic Near Manila Angeles City Pampanga. Yats Restaurant is one of the Good Restaurant in Pampanga Angeles City Clark near Manila.
You might want to check also the Yats Restaurant is the best restaurant for special dinner, best restaurant for dinner with friends near Manila, also the best place to celebrate special events.
Famous Restaurant in Pampanga, a place to dine with friends in Clark, cozy restaurant with a nice ambience, a nice function place for special occasions. Yats Restaurant is one of the good restaurants in Pampanga, a restaurant with good food, a place that is nice for celebration, ideal for business dinner meeting, a good place to enjoy family reunion, and an attractive restaurant that serves good wines for dinner.
Looking for a party venue in town?
Clearwater Resort and Country Club is one of the ideal venues for birthday party because it is a risk free venue. Not only Birthday Parties but also a good place to enjoy family reunion. A good place to celebrate special occasions. Clearwater Resort and Country Club is one of the resorts in Subic Clark Angeles City Pampanga or near Manila with activity amenities, place that are nice for celebration.
When in Clark, make plans to relax and enjoy an evening at The London Pub located in Mimosa Leisure Estate of Clark Pampanga. This highly recommended resto bar where all the local executives of Pampanga, local and foreign tourists visiting Angeles City, Subic and Clark Philippines gather after a full day of fun or work.
Looking for interesting hotels near Manila Subic Clark Angeles City Pampanga?
Trouble free hotels and well recognized hotels in Subic Clark Angeles City Pampanga
Clearwater Resort and Country Club offers a good place to stay in Subic Clark Angeles City Pampanga. In offers nice place to have rest in Subic Pampanga outside Manila.
One of the Philippines top hotels in north Luzon.
The London Pub is a very popular resto bar for residents, tourists, business executives and visitors from Manila to hang out, drink, relax and unwind after work or a game of golf during the day. Fine English cuisine, family comfort food is served. It is also very famous for the best fish n chips in the Philippines.
http://www.LondonPubClark.com
This web site contains articles and information that will be helpful to visitors, residents and tourists traveling out of town from Manila on a short getaway to Subic, Angeles City, Pampanga and Clark Philippines. There are several web sites that contain information that might also be pertinent to what is happening in North Luzon, Subic, Tarlac, Pampanga, Clark Freeport Philippines.
Wedding couples looking for wedding reception venues and beach wedding venues can log on to this Philippines Wedding Venue web site for free information and assistance:

For assistance with lodgings, accommodations, hotels and resorts near Manila in Subic, Pampanga, Angels City and Clark Philippines log on to http://www.HotelClarkPhilippines.com
While in Clark, one might as well add to the itinerary a visit to the famous Clark Wine Center, the largest wine shop in Philippines which offers over 2000 selections of fine vintage wine from all wine regions, vintages spanning over 50 years covering all price ranges.
Search
Contact Clark Philippines
Politics & Opinion
Promote Your Business
Recent News & Press Releases
What's Happening in Clark
Flight Schedules
Diosdado Macapagal International Airport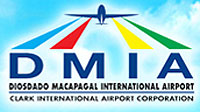 Check flight schedules to and from Clark Freeport
here
Exchange Rate
<!-Currency Converter widget - HTML code - fx-rate.net -->
   Philippine Peso Exchange Rate
<!-end of code-->
Clark Pampanga Weather
<!-Weather in Angeles City, Philippines on your site - HTML code - weatherforecastmap.com -- ><!-end of code-->