MAGALANG — Scores of mentally and physically challenged children benefitted from the "Reach for the Sky 2″ project jointly initiated Saturday by the Canon Advocacy Team and the SM Cares.
Some of the kids with disabilities were given a chance to experience flying on board ultra-light aircrafts and Cessna planes at the Angeles City Flying Club Woodland Airpark at Talimundok, Santa Maria, in this town, Saturday.
The children belonged to various organizations, including the Parent Advocates for Visually Impaired Children, Kythe Foundation, Philippine Society for Orphan Disorders, Autism Society of the Philippines, Down Syndrome Association of the Philippines, Saint Francis School–VSA Arts Philippines Incorporation and the Attention Deficit Hyperactivity Disorder Society of the Philippines.
The Philippine Air Force also assisted in this year's event by providing a chopper, which was used in flying some of the children around the area.
The PWD (Photography with a Difference) — Touching Lives Through Photography as an advocacy began with a chance encounter with 2008 between photographer John Chua and Ian, a 25-year-old youth with autism.
Chua invited Ian and his mother to the Manila Zoo as he had wanted to capture bonding moments between a mother and her son, hoping such photographs would give her solace and inspiration during difficult times.
Margie Escuelta, Canon head of Corporate Communications, said they sponsored and initiated PWD Achievers Reach for the Sky last year so that children may enjoy various activities, including flying.
She said Canon has also been involved in various projects as part of their corporate social responsibility.
The Canon A Team consists of some 80 volunteer photographers at present, according to Escuelta.
As part of its 15th year anniversary this year, Canon is also planning to conduct a basketball clinic for kids with Down syndrome and ADHD.
"We want to teach them so that they will be able to maximize their abilities and not their disabilities," Escuelta said.
http://www.sunstar.com.ph/pampanga/local-news/2012/03/25/special-kids-reach-sky-213093
Top rated outdoor place in Pampanga, highly recommended for families with children looking for a good safe place for kids to play and enjoy family bonding with parents
Poor Philippines Records in Law and Order drove city dwellers to enjoy holidays in havens like Clark Freeport.
Metro Manila has lost a great deal of its luster of old not only because of its failure to keep up with the times in development but also its reputation as a safe destination for family bonding, travelers looking to unwind and relax in a beach or a lake and retirees looking for a life of leisure.
Where to go in Clark? Hotel Clark Philippines is a De Luxe Hotel in Clark and Subic, a risk free place to stay, cozy and nice ambience, a nice function place for special occasion
You might want to check also the Yats Restaurant is the best restaurant for special dinner, best restaurant for dinner with friends near Manila, also the best place to celebrate special events.
Famous Restaurant in Pampanga, a place to dine with friends in Clark, cozy restaurant with a nice ambience, a nice function place for special occasions. Looking for a restaurant in Clark for a Business meeting? Or a place to eat with friends? Yats Restaurant offers exclusive dinner venue for groups, a good place to celebrate special occasions, it can be a party venue in town. Yats Restaurant is a recommended restaurant for private dinner in Philippines, a well-recognized restaurant that serves good food and good wines for dinner.
Are you looking for an attractive restaurant or a nice place to eat with friends in Clark, Angeles City Pampanga? Yats Restaurant and Wine Bar is a restaurant with good food and good wines for dinner located at Clark Angeles City Pampanga. Perfect for exclusive dinner venues for groups, recommended for private dinner in Philippines. A Restaurant in Clark for business dinner meeting. Private dinner place or dinner restaurant in Clark Subic Near Manila Angeles City Pampanga. Yats Restaurant is one of the Good Restaurant in Pampanga Angeles City Clark near Manila.
Clark Pampanga was the largest foreign US airbase, complete with its own international airport with daily flights linking it to major cities around Asia. Inside of Clark Philippines are golf courses, casinos, family-styled resorts that smacks of the US suburban lifestyles and fine-dining restaurants. Travelers going north to Clark Pampanga look for enjoyable hotel for family bonding during summer vacation in Philippines. Most prefer the privacy of an exclusive resort that offers outdoor amenities like beach, lake and picnic grounds so the whole family can spend quality time, lay back and rest with no stress.
Looking for a party venue in town?
Clearwater Resort and Country Club is one of the ideal venues for birthday party because it is a risk free venue. Not only Birthday Parties but also a good place to enjoy family reunion. A good place to celebrate special occasions. Clearwater Resort and Country Club is one of the resorts in Subic Clark Angeles City Pampanga or near Manila with activity amenities, place that are nice for celebration.
This web site contains articles and information that will be helpful to visitors, residents and tourists traveling out of town from Manila on a short getaway to Subic, Angeles City, Pampanga and Clark Philippines. There are several web sites that contain information that might also be pertinent to what is happening in North Luzon, Subic, Tarlac, Pampanga, Clark Freeport Philippines.
Looking for interesting hotels near Manila Subic Clark Angeles City Pampanga?
Trouble free hotels and well recognized hotels in Subic Clark Angeles City Pampanga
Clearwater Resort and Country Club offers a good place to stay in Subic Clark Angeles City Pampanga. In offers nice place to have rest in Subic Pampanga outside Manila.
One of the Philippines top hotels in north Luzon.
Wedding couples looking for wedding reception venues and beach wedding venues can log on to this Philippines Wedding Venue web site for free information and assistance:

For assistance with lodgings, accommodations, hotels and resorts near Manila in Subic, Pampanga, Angels City and Clark Philippines log on to http://www.HotelClarkPhilippines.com
While in Clark, one might as well add to the itinerary a visit to the famous Clark Wine Center, the largest wine shop in Philippines which offers over 2000 selections of fine vintage wine from all wine regions, vintages spanning over 50 years covering all price ranges.
Search
Contact Clark Philippines
Politics & Opinion
Promote Your Business
Recent News & Press Releases
What's Happening in Clark
Flight Schedules
Diosdado Macapagal International Airport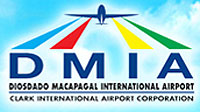 Check flight schedules to and from Clark Freeport
here
Exchange Rate
<!-Currency Converter widget - HTML code - fx-rate.net -->
   Philippine Peso Exchange Rate
<!-end of code-->
Clark Pampanga Weather
<!-Weather in Angeles City, Philippines on your site - HTML code - weatherforecastmap.com -- ><!-end of code-->