CLARK FREEPORT, Pampanga- The Subic Bay Metropolitan Authority (SBMA) is enticing call centers to locate in Subic Freeport as it cited its excellent facilities for business process outsourcing (BPO) operations.
In an assembly meeting of the Business Processing Association of the Philippines (BPAP) and the Contact Center Association of the Philippines (CCAP), SBMA Chairman Roberto Garcia expressed optimism that Subic Bay will become "the next place to be for information and communication technology (ICT) businesses in the country."
Garcia, who was invited by BPAP and CCAP president Benedict Hernandez to talk about the advantages of investing in Subic, also said the BPO industry continues to grow in the Philippines with Subic likely to be a major ICT destination.
"BPO is the most vibrant industry in the country today. And Subic is now ready to accommodate you as we gear towards becoming an ICT hub," Garcia said.
He said Subic has complete ICT facilities "in an environment where you will love to stay." Proof of this, he added, is the 44 BPO locators now in Subic Bay, which altogether employ some 2,400 call center agents.
Garcia said Subic now enjoys three-way global connectivity, a link from fiber-optic cable network to satellite transmission system, and the microwave uplink services needed to set up an international call center.
Most of all, he said that the freeport zone at present has a 116-MW power plant supplying the national grid and is working to have a switch for this plant that will ensure the Freeport continuous and steady power supply should the grid go down.
The SBMA chief said that working in the Subic Freeport is enjoyable as the agency maintains the best security in the country, enforces traffic discipline which eliminates traffic jams, and promotes a clean and friendly environment that is conducive to good health and happy living.
To accommodate more BPO locators, Garcia is offering the use of a former assembly building of computer-maker Wistron Infocomm Philippines inside the Gateway Park, an industrial estate managed by the Subic Bay Development and Management Corporation.
The building has plenty of office space in a 10-hectare lot and is located near the Freeport's Central Business District, Garcia said.
Garcia also advised the BPO executives that they can source out manpower elsewhere to fill up the seats for their call center projects.
"You offer good jobs in one of the best places in the country and you will attract people to come with you to Subic," he said.
Garcia explained that because of the expected influx of thousands of BPO workers in Subic, the SBMA is planning to build a workers' dormitory, which can accommodate 8,000 workers near the proposed ICT hub.
He added that the proximity of the dormitory to the ICT hub will mean some P4,000 monthly savings on travel expenses of call center agents, thereby making the cost of living in the Subic Bay Freeport about 40 percent cheaper than in Manila.
Hernandez expressed optimism that Garcia's vision for an ICT hub in Subic is not far from realization.
He noted that Subic is such a beautiful and attractive place.
Garcia closed his meeting with BPAP and CCAP members with an invitation for them to visit Subic for a first-hand view of the ICT hub.
http://punto.com.ph/News/Article/15034/Volume-6-No-29/Headlines/Subic-lures-BPO-investors-cites-ICT-readiness
Residents or Manila travel out of town to head north to Pampanga to relax, unwind and spend a few nights in the new hotel rooms situated right on the lake of Clearwater Resort in Clark Airbase. Many visitors and tourists enjoy the feeling of waking up by the lake. The sunrise produces a spectacular sight with the sunlight reflection on the calm surface of the three-hectare fresh water lake of this famous resort in Clark.
Families with small children prefer outdoor hotel in Manila, clean and safe place in Pampanga Clark to bring kids to relax and unwind. Outdoor space is an important criterion affecting the selection of a suitable hotel in Clark Pampanga for family bonding or to relax and unwind with friends. Best hotel in Clark Pampanga offers good outdoor facilities, large picnic grounds, lake and beach and other outdoor amenities making it possible for guests of this frequently visited hotel in Clark to relax and unwind with no stress.
The safest getaway destination vacation spot near Manila convenient safe and accessible is Clearwater Beach Resort in Clark Pampanga, great for family bonding, hang out to unwind and relax near lake and trees, camping too.
Where to go in Clark? Hotel Clark Philippines is a De Luxe Hotel in Clark and Subic, a risk free place to stay, cozy and nice ambience, a nice function place for special occasion
Are you looking for an attractive restaurant or a nice place to eat with friends in Clark, Angeles City Pampanga? Yats Restaurant and Wine Bar is a restaurant with good food and good wines for dinner located at Clark Angeles City Pampanga. Perfect for exclusive dinner venues for groups, recommended for private dinner in Philippines. A Restaurant in Clark for business dinner meeting. Private dinner place or dinner restaurant in Clark Subic Near Manila Angeles City Pampanga. Yats Restaurant is one of the Good Restaurant in Pampanga Angeles City Clark near Manila.
You might want to check also the Yats Restaurant is the best restaurant for special dinner, best restaurant for dinner with friends near Manila, also the best place to celebrate special events.
Famous Restaurant in Pampanga, a place to dine with friends in Clark, cozy restaurant with a nice ambience, a nice function place for special occasions. Yats Restaurant is one of the good restaurants in Pampanga, a restaurant with good food, a place that is nice for celebration, ideal for business dinner meeting, a good place to enjoy family reunion, and an attractive restaurant that serves good wines for dinner.
Looking for a party venue in town?
Clearwater Resort and Country Club is one of the ideal venues for birthday party because it is a risk free venue. Not only Birthday Parties but also a good place to enjoy family reunion. A good place to celebrate special occasions. Clearwater Resort and Country Club is one of the resorts in Subic Clark Angeles City Pampanga or near Manila with activity amenities, place that are nice for celebration.
When in Clark, make plans to relax and enjoy an evening at The London Pub located in Mimosa Leisure Estate of Clark Pampanga. This highly recommended resto bar where all the local executives of Pampanga, local and foreign tourists visiting Angeles City, Subic and Clark Philippines gather after a full day of fun or work.
Looking for interesting hotels near Manila Subic Clark Angeles City Pampanga?
Trouble free hotels and well recognized hotels in Subic Clark Angeles City Pampanga
Clearwater Resort and Country Club offers a good place to stay in Subic Clark Angeles City Pampanga. In offers nice place to have rest in Subic Pampanga outside Manila.
One of the Philippines top hotels in north Luzon.
The London Pub is a very popular resto bar for residents, tourists, business executives and visitors from Manila to hang out, drink, relax and unwind after work or a game of golf during the day. Fine English cuisine, family comfort food is served. It is also very famous for the best fish n chips in the Philippines.
http://www.LondonPubClark.com
This web site contains articles and information that will be helpful to visitors, residents and tourists traveling out of town from Manila on a short getaway to Subic, Angeles City, Pampanga and Clark Philippines. There are several web sites that contain information that might also be pertinent to what is happening in North Luzon, Subic, Tarlac, Pampanga, Clark Freeport Philippines.
Wedding couples looking for wedding reception venues and beach wedding venues can log on to this Philippines Wedding Venue web site for free information and assistance:

For assistance with lodgings, accommodations, hotels and resorts near Manila in Subic, Pampanga, Angels City and Clark Philippines log on to http://www.HotelClarkPhilippines.com
While in Clark, one might as well add to the itinerary a visit to the famous Clark Wine Center, the largest wine shop in Philippines which offers over 2000 selections of fine vintage wine from all wine regions, vintages spanning over 50 years covering all price ranges.
Search
Contact Clark Philippines
Politics & Opinion
Promote Your Business
Recent News & Press Releases
What's Happening in Clark
Flight Schedules
Diosdado Macapagal International Airport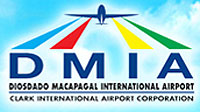 Check flight schedules to and from Clark Freeport
here
Exchange Rate
<!-Currency Converter widget - HTML code - fx-rate.net -->
   Philippine Peso Exchange Rate
<!-end of code-->
Clark Pampanga Weather
<!-Weather in Angeles City, Philippines on your site - HTML code - weatherforecastmap.com -- ><!-end of code-->