Manila, Philippines – ABS-CBN's "TV Patrol" is now celebrating its 25 years in local TV, which is also now the longest-running Filipino primetime TV newscast in the country.
As noted by ABS-CBN on Monday, March 05, 2012, the "TV Patrol" 25th anniversary celebration started that day by unveiling a commemorative marker in Barangay Nabuclod, Floridablanca, Pampanga.
According to the report, ABS-CBN News and Current Affairs head Regina "Ging" Reyes said that the town was chosen for the historic marker since the place became their headquarters back in 1991 when Mt. Pinatuboerupted on June that year.
Meanwhile, current TV Patrol anchors Noli de Castro, Ted Failon and Korina Sanchez were among who joined past and present members of TV Patrol that day during the unveiling rites in Pampanga.
Based on ABS-CBN history, TV Patrol had its first airing on March 2, 1987 and featured anchors "Kabayan" Noli de Castro, Mel Tiangco and Robert Arevalo, who was later replaced by Frankie Evangelista.
Ted Failon temporarily replaced Frankie Evangelista in 1992, and Korina Sanchez in 1995 replaced Mel Tiangco, who transferred to GMA Network; while Noli de Castro left the show in 2001 to run for senator and eventually became the Vice President under the Arroyo administration.
Korina Sanchez left TV Patrol in November 2004 and had other shows in ABS-CBN, with the show having lot of changes in its format throughout the years along with the introduction of other anchors including Karen Davilaand Julius Babao.
Back in November 2010, Korina Sanchez and Noli de Castro returned to the show and joined Ted Failon, whileDavila and Babao were transferred to the network's late night news program, "Bandila" to join Ces Drilon as anchors.
Meanwhile, special online and on-ground activities will also be held this Monday to celebrate TV Patrol's 25thanniversary, along with its special anniversary broadcast at 6:30 p.m. (local time) at ABS-CBN.
http://www.batangastoday.com/tv-patrol-at-25-abs-cbn-tv-patrol-25th-anniversary-celebration-in-pampanga-special-broadcast-at-night/20960/
Some of the good resorts in Pampanga offer good alternatives to hotel function rooms for seminars, corporate planning and meetings. More and more, Manila event planners prefer to hold planning sessions and meeting out of town in the north where participants can relax and unwind in outdoor facilities of some of the good resorts outside Manila. This way, the meetings can be much more productive as participants get a chance to enjoy the lake, beach and good picnic spots in a good resort in Clark Pampanga between seminars, planning sessions and meetings. Clearwater Resort is generally recognized by event planners as the best event venue in Clark Pampanga. Clearwater appears frequently on the top of a list of the best hotels in Pampanga. Visitors to Clark and Angeles City Pampanga seldom pass up the opportunity to relax and unwind by the lake of this popular resort in Pampanga.
Residents of Manila and Angeles City Pampanga are looking for a safe and convenient place to celebrate special occasions or take a shot vacation in the Philippines. Many travel north to Clark to swim at Clearwater Beach Resort which also has lake and picnic grounds to unwind and relax, a very good way to spend quality time with the family and children. Fine dining Yats Restaurant offers sumptuous cozy Christmas dinner, for wine lovers, Clark Wine Center provides exciting shopping options.
Clark Philippines also known as Clark Freeport Zone is now the preferred destination for foreign and local investments because it offers many attractive advantages including tax, safety and its own international airport
Where to go in Clark? Hotel Clark Philippines is a De Luxe Hotel in Clark and Subic, a risk free place to stay, cozy and nice ambience, a nice function place for special occasion
You might want to check also the Yats Restaurant is the best restaurant for special dinner, best restaurant for dinner with friends near Manila, also the best place to celebrate special events.
Famous Restaurant in Pampanga, a place to dine with friends in Clark, cozy restaurant with a nice ambience, a nice function place for special occasions. Yats Restaurant is one of the good restaurants in Pampanga, a restaurant with good food, a place that is nice for celebration, ideal for business dinner meeting, a good place to enjoy family reunion, and an attractive restaurant that serves good wines for dinner.
Are you looking for an attractive restaurant or a nice place to eat with friends in Clark, Angeles City Pampanga? Yats Restaurant and Wine Bar is a restaurant with good food and good wines for dinner located at Clark Angeles City Pampanga. Perfect for exclusive dinner venues for groups, recommended for private dinner in Philippines. A Restaurant in Clark for business dinner meeting. Private dinner place or dinner restaurant in Clark Subic Near Manila Angeles City Pampanga. Yats Restaurant is one of the Good Restaurant in Pampanga Angeles City Clark near Manila.
The advantages for making the move from a country like UK, USA, Japan, Korea, Hong Kong, Singapore and Australia for example, to a country like Philippines are enormous. Heavily in your favor are factors like asset values differentials and substantial reduction in cost of living. Selling off your home probably gives you enough capital to not only live comfortably in a bigger property in Philippines but also to re-establish yourself in the business community by starting a business here too.
Looking for a party venue in town?
Clearwater Resort and Country Club is one of the ideal venues for birthday party because it is a risk free venue. Not only Birthday Parties but also a good place to enjoy family reunion. A good place to celebrate special occasions. Clearwater Resort and Country Club is one of the resorts in Subic Clark Angeles City Pampanga or near Manila with activity amenities, place that are nice for celebration.
This web site contains articles and information that will be helpful to visitors, residents and tourists traveling out of town from Manila on a short getaway to Subic, Angeles City, Pampanga and Clark Philippines. There are several web sites that contain information that might also be pertinent to what is happening in North Luzon, Subic, Tarlac, Pampanga, Clark Freeport Philippines.
Looking for interesting hotels near Manila Subic Clark Angeles City Pampanga?
Trouble free hotels and well recognized hotels in Subic Clark Angeles City Pampanga
Clearwater Resort and Country Club offers a good place to stay in Subic Clark Angeles City Pampanga. In offers nice place to have rest in Subic Pampanga outside Manila.
One of the Philippines top hotels in north Luzon.
Wedding couples looking for wedding reception venues and beach wedding venues can log on to this Philippines Wedding Venue web site for free information and assistance:

For assistance with lodgings, accommodations, hotels and resorts near Manila in Subic, Pampanga, Angels City and Clark Philippines log on to http://www.HotelClarkPhilippines.com
While in Clark, one might as well add to the itinerary a visit to the famous Clark Wine Center, the largest wine shop in Philippines which offers over 2000 selections of fine vintage wine from all wine regions, vintages spanning over 50 years covering all price ranges.
Search
Contact Clark Philippines
Politics & Opinion
Promote Your Business
Recent News & Press Releases
What's Happening in Clark
Flight Schedules
Diosdado Macapagal International Airport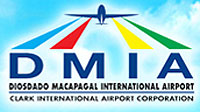 Check flight schedules to and from Clark Freeport
here
Exchange Rate
<!-Currency Converter widget - HTML code - fx-rate.net -->
   Philippine Peso Exchange Rate
<!-end of code-->
Clark Pampanga Weather
<!-Weather in Angeles City, Philippines on your site - HTML code - weatherforecastmap.com -- ><!-end of code-->