SUBIC BAY FREEPORT – Brazil's Vale Shipping Holdings Pte. Ltd. (VSH), along with the Subic Bay Metropolitan Authority (SBMA), formally launched a partnership for the transshipment of iron ore from this freeport.
In a ceremony held at the Lighthouse Marina Resort here on June 1, VSH executives led by Jose Carlos Martins, executive officer for ferrous minerals operations, and officials of the SBMA led by Chairman and Administrator Roberto Garcia, announced the start of Vale's transshipment business here.
VSH is an affiliate of Vale SA, the world's largest producer of iron ore, which also controls the largest share of the seaborne market for iron ore.
The company will carry out iron ore transshipment operations from its Valemax mother vessel to be anchored in Subic Bay, and then supply ore to smaller daughter vessels or feeders, which are either Panamax or Capesize types.
The project is expected to boost Subic's port revenues by up to P70-million in the first year of operations alone.
In his message during the project launch, Martins thanked the SBMA for its warm reception of the project and expressed hope that the partnership between his company and the SBMA would continue to grow and benefit both the Philippines and Brazil.
"The Philippines is growing now at almost the same pace with China, and the Philippines is emerging in the world economy," Martins noted. "With this opportunity, now is our time — now is the time for countries like Brazil and the Philippines."
Garcia, meanwhile, said that the Vale project will help thrust the Philippines forward in the maritime industry and stressed its importance to the SBMA.
"In our strategic plan, we were very dead-set in continuing to promote the maritime business, and the Vale project is an important pillar of our strategy to maximize the use of Subic Bay," he said.
"We have a very good future here," Garcia added, pointing out that the Philippines is in a current state of rapid development, having achieved a 6.4per cent GDP growth rate this first quarter compared to 4 percent last year.
"And what is outstanding is the fact that it is the second highest growth rate in the region, second only to China," he added.
For his part, SBMA director and treasurer Joven Reyes said that the agency is much honored that VSH had chosen Subic Bay as its major transshipment port.
"We hope even more that your business continues to move from success to success and that this partnership, which we are officially launching today, would lead to better and greater developments for Vale, Subic Bay, and of course our country down the road," Reyes said.
The Vale project began in late 2010 when SBMA and Vale proposed a solution that matched Vale's transshipment operations model with SBMA's logistics business model.
Stefani Saño, SBMA senior deputy administrator for business and investment development, said that Vale needed to optimize its large-scale iron ore distribution and delivery system and the SBMA offered the bay as a suitable offshore location.
"This logistics model would allow Vale's huge vessels to tranship the commodity with maximum efficiency in terms of time and cost, given the scale of operations required," Saño added.
Saño also said that apart from Vale, the SBMA is also trying to attract more logistics companies to invest in the Freeport.
He said that at least two logistics companies engaged in different line of commodities for offshore-based distribution operations have expressed interest in locating at Subic Bay.
http://punto.com.ph/News/Article/14492/Volume-6-No-4/Headlines/Vale-SBMA-launch-Subic-Bay-iron-ore-transshipment-operations
Manila residents and tourists spending a vacation in Philippines prefer to travel out of town from Manila to the north to visit Subic, Pampanga, Angeles City and Clark Philippines. While many areas of the Philippines are plagued by crime and security concerns, Clark Pampanga continues to impress the travel and tourism observers with its immaculately low crime records. Other features of Pampanga Angeles City Clark that attract family tourists and those visitors that are health sensitive include low pollution, peace and quiet ambiance and a most welcome absence of traffic congestion.
Yats Restaurant is one of the good restaurants in Pampanga, a restaurant with good food, a place that is nice for celebration, ideal for business dinner meeting, a good place to enjoy family reunion, and an attractive restaurant that serves good wines for dinner.
Families with small children prefer outdoor resort in Manila clean and safe place in Pampanga Clark to bring kids to relax and unwind. Family bonding is much more effective and enjoyable in a private resort that offers large outdoor facilities, picnic grounds, beautiful scenery, peaceful and quiet ambience.
Many are selling off their assets to start a new life in Philippines, taking advantage of the standard-of-living differential to start a business or just enjoy living in a tropical country. With careful planning, the move to Philippines can work out brilliantly or it can be a painful mistake. Clark Pampanga has been the preferred destination for retirement also.
You might want to check also the Yats Restaurant is the best restaurant for special dinner, best restaurant for dinner with friends near Manila, also the best place to celebrate special events.
Are you looking for an attractive restaurant or a nice place to eat with friends in Clark, Angeles City Pampanga? Yats Restaurant and Wine Bar is a restaurant with good food and good wines for dinner located at Clark Angeles City Pampanga. Perfect for exclusive dinner venues for groups, recommended for private dinner in Philippines. A Restaurant in Clark for business dinner meeting. Private dinner place or dinner restaurant in Clark Subic Near Manila Angeles City Pampanga. Yats Restaurant is one of the Good Restaurant in Pampanga Angeles City Clark near Manila.
Famous Restaurant in Pampanga, a place to dine with friends in Clark, cozy restaurant with a nice ambience, a nice function place for special occasions
Looking for a party venue in town?
Clearwater Resort and Country Club is one of the ideal venues for birthday party because it is a risk free venue. Not only Birthday Parties but also a good place to enjoy family reunion. A good place to celebrate special occasions. Clearwater Resort and Country Club is one of the resorts in Subic Clark Angeles City Pampanga or near Manila with activity amenities, place that are nice for celebration.
This web site contains articles and information that will be helpful to visitors, residents and tourists traveling out of town from Manila on a short getaway to Subic, Angeles City, Pampanga and Clark Philippines. There are several web sites that contain information that might also be pertinent to what is happening in North Luzon, Subic, Tarlac, Pampanga, Clark Freeport Philippines.
Looking for interesting hotels near Manila Subic Clark Angeles City Pampanga?
Trouble free hotels and well recognized hotels in Subic Clark Angeles City Pampanga
Clearwater Resort and Country Club offers a good place to stay in Subic Clark Angeles City Pampanga. In offers nice place to have rest in Subic Pampanga outside Manila.
One of the Philippines top hotels in north Luzon.
Wedding couples looking for wedding reception venues and beach wedding venues can log on to this Philippines Wedding Venue web site for free information and assistance:

For assistance with lodgings, accommodations, hotels and resorts near Manila in Subic, Pampanga, Angels City and Clark Philippines log on to http://www.HotelClarkPhilippines.com
While in Clark, one might as well add to the itinerary a visit to the famous Clark Wine Center, the largest wine shop in Philippines which offers over 2000 selections of fine vintage wine from all wine regions, vintages spanning over 50 years covering all price ranges.
Search
Contact Clark Philippines
Politics & Opinion
Promote Your Business
Recent News & Press Releases
What's Happening in Clark
Flight Schedules
Diosdado Macapagal International Airport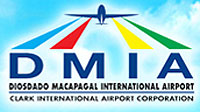 Check flight schedules to and from Clark Freeport
here
Exchange Rate
<!-Currency Converter widget - HTML code - fx-rate.net -->
   Philippine Peso Exchange Rate
<!-end of code-->
Clark Pampanga Weather
<!-Weather in Angeles City, Philippines on your site - HTML code - weatherforecastmap.com -- ><!-end of code-->