MANILA, Philippines – The mayor of Angeles City, Pampanga was chosen as one of the official finalists for the 2012 World Mayor award.
Mayor Edgardo Pamintuan was named by the international think tank City Mayors Foundation as one of its 25 finalists for this year's award for the most outstanding city mayor in the world. He, along with the other finalists, were selected among 98 city mayors who were nominated through a search held from January to May.
"This is really an unexpected result. As what I have said, being long listed to receive this award is already a heart-warming acknowledgment. But being one of the 25 finalists to vie to be the next World Mayor is extremely overwhelming," Pamintuan said in a statement.
He has served as vice mayor of Angeles City from 1988 to 1992 and mayor from 1992 to 1998. He has also served in various government agencies and even became a presidential adviser under the Arroyo administration. He is currently serving another term as mayor after winning in the 2010 local elections.
"I guess the reason why we were able to get this far is that people see what we have given in honor of the people of Angeles," Pamintuan added.
He is the second Angeles City mayor to make it as a finalist in the award, after former mayor and now Pampanga representative Carmelo Lazatin became a finalist in 2006.
In this year's list of finalists, Pamintuan is joined by four other city mayors from Asia, five from North America, four from Latin America, seven from Europe, two from Australasia, and two from Africa.
Voting for the finalists is done by accomplishing an online ballot form, in which a person has to state the reasons for voting for the finalist of his or her choice. The voting will close in October, and the City Mayors Foundation will declare a winner and runner-ups in December.
Since the establishment of the awards in 2004, five nominated city mayors from the Philippines made it among the finalists, with three of them ranking among the top 10:
• 2005: Oscar Rodriguez of San Fernando, Pampanga (still incumbent mayor) – ranked 4th
• 2006: Jejomar Binay of Makati City (now Philippine vice president) – ranked 4th
• 2006: Carmelo Lazatin of Angeles City, Pampanga (now Pampanga representative) – finalist
• 2008: Marides Fernando of Marikina City (former mayor) – ranked 7th
• 2010: Jesse Robredo of Naga City, Camarines Sur (now Interior and Local Government secretary) – finalist
Previous World Mayor awardees are:
• 2004: Edi Rama (Tirana, Albania)
• 2005: Dora Bakoyannis (Athens, Greece)
• 2006: John So (Melbourne, Australia)
• 2008: Helen Zille (Cape Town, South Africa)
• 2010: Marcelo Ebrard (Mexico City, Mexico)
The award "honors mayors with the vision, passion and skills to make their cities incredible places to live in, work in and visit," and "aims to show what outstanding mayors can achieve and raise their profiles nationally and internationally."
http://www.rappler.com/nation/7498-pampanga-city-mayor-named-as-world-mayor-award-finalist
Manila families with small children looking for an accessible place for kids to have fun frequently visit private resort in Clark Pampanga to unwind relax in family bonding, top venue for reunion.
Some hotels and resorts offer free WIFI Internet connection to guests. This includes beach resort of Clearwater which also offers free Internet connection in the room as well as in the outdoor areas even near the beach and by the lake.
Fine dining restaurants like Yats Restaurants and Wine Bar also offers good internet connection to their guests. Highly recommended bar, pub and nightlife spot The London Pub located inside Mimosa also offers good internet connection to guests.
The London Pub is a classic English Gastropub frequented by local expats and business community. It serves up good food, plenty of excellent vintage wine by the glass and a good selection of Cuban cigars. The ambience is old English, dark wood, comfortable and relaxed.
Where to go in Clark? Hotel Clark Philippines is a De Luxe Hotel in Clark and Subic, a risk free place to stay, cozy and nice ambience, a nice function place for special occasion
You might want to check also the Yats Restaurant is the best restaurant for special dinner, best restaurant for dinner with friends near Manila, also the best place to celebrate special events.
Famous Restaurant in Pampanga, a place to dine with friends in Clark, cozy restaurant with a nice ambience, a nice function place for special occasions. Yats Restaurant is one of the good restaurants in Pampanga, a restaurant with good food, a place that is nice for celebration, ideal for business dinner meeting, a good place to enjoy family reunion, and an attractive restaurant that serves good wines for dinner.
Are you looking for an attractive restaurant or a nice place to eat with friends in Clark, Angeles City Pampanga? Yats Restaurant and Wine Bar is a restaurant with good food and good wines for dinner located at Clark Angeles City Pampanga. Perfect for exclusive dinner venues for groups, recommended for private dinner in Philippines. A Restaurant in Clark for business dinner meeting. Private dinner place or dinner restaurant in Clark Subic Near Manila Angeles City Pampanga. Yats Restaurant is one of the Good Restaurant in Pampanga Angeles City Clark near Manila.
Frequent travelers and visitors staying in Angeles City Pampanga Clark Philippines look for restaurants, coffee shops, bars, pubs, hotels and resorts in Clark that serve high quality Nespresso coffee to guests. Here are some of the highly recommended places in Clark that offer good gourmet Nespresso coffee.
Looking for interesting hotels near Manila Subic Clark Angeles City Pampanga?
Trouble free hotels and well recognized hotels in Subic Clark Angeles City Pampanga
Clearwater Resort and Country Club offers a good place to stay in Subic Clark Angeles City Pampanga. In offers nice place to have rest in Subic Pampanga outside Manila.
One of the Philippines top hotels in north Luzon.
This web site contains articles and information that will be helpful to visitors, residents and tourists traveling out of town from Manila on a short getaway to Subic, Angeles City, Pampanga and Clark Philippines. There are several web sites that contain information that might also be pertinent to what is happening in North Luzon, Subic, Tarlac, Pampanga, Clark Freeport Philippines.
Looking for a party venue in town?
Clearwater Resort and Country Club is one of the ideal venues for birthday party because it is a risk free venue. Not only Birthday Parties but also a good place to enjoy family reunion. A good place to celebrate special occasions. Clearwater Resort and Country Club is one of the resorts in Subic Clark Angeles City Pampanga or near Manila with activity amenities, place that are nice for celebration.
Wedding couples looking for wedding reception venues and beach wedding venues can log on to this Philippines Wedding Venue web site for free information and assistance:

For assistance with lodgings, accommodations, hotels and resorts near Manila in Subic, Pampanga, Angels City and Clark Philippines log on to http://www.HotelClarkPhilippines.com
While in Clark, one might as well add to the itinerary a visit to the famous Clark Wine Center, the largest wine shop in Philippines which offers over 2000 selections of fine vintage wine from all wine regions, vintages spanning over 50 years covering all price ranges.
Search
Contact Clark Philippines
Politics & Opinion
Promote Your Business
Recent News & Press Releases
What's Happening in Clark
Flight Schedules
Diosdado Macapagal International Airport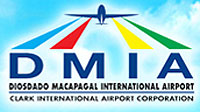 Check flight schedules to and from Clark Freeport
here
Exchange Rate
<!-Currency Converter widget - HTML code - fx-rate.net -->
   Philippine Peso Exchange Rate
<!-end of code-->
Clark Pampanga Weather
<!-Weather in Angeles City, Philippines on your site - HTML code - weatherforecastmap.com -- ><!-end of code-->