It's been a while since me and my friends have gone on a road trip. This year, we decided to change all of that. When we heard about the annual hot air balloon festival happening in Pampanga last weekend, we decided to make that our first of many road trip adventures for the year.
We finally made it to Angeles, Pampanga around 3 in the afternoon. Even though it's classified to be a provincial city, driving through the streets of Angeles reminded me so much of some areas in Manila with a seemingly organized chaos of people crossing, two-lane streets transforming into four lanes in an instant, and a throng of fast food chains lining either side of the streets.
Our first agenda after arriving to our road trip destination was to find our hotel to put down our things and rest for a bit before we go around Clark Freeport Zone where the hot air balloon festival was taking place. We called the hotel to ask for directions, and found it with no problem at all.
Since we were in Pampanga, I figured the best place to head over for dinner was at the Everybody's Cafe. It's been a highly recommended restaurant to try while visiting Pampanga if you really want to sample the local fare. But that was not the only reason why the Everybody's Cafe came to my mind. Brian had often remarked to me that he would eat anything that is served in front of him, so I decided to see if he's really a man of his word.
The only problem was, we were in Angeles and the Everybody's Cafe branch that I know was located in San Fernando, another major city in Pampanga. Given that we needed to sleep really early that night to make it to the hot air balloon festival the following day, I figured the traveling all that way for dinner isn't really that practical.
Nevertheless, I decided to still call them to see just how far it was from where we were at. When I spoke to one of the staff members and told them that we were coming from Angeles, he suggested to me to head over to their branch right in the main city proper. That would definitely work for us. Told my friends about it, and got the consensus to head there for dinner, and it turned out to be a great way to end day one of our road trip to Pampanga.
http://life-and-leisure.com/travel-guide/road-trip-to-pampanga-day-one
Clearwater is one of the hotels in Pampanga that offers good outdoor venues for events like team building and company outings.  Manila event organizers look for good resorts near Manila to hold outdoor functions and events for clients.  Many event planners choose Clearwater because it is located in Clark.  This is one of the best event venues near Manila.   There are over 10 outdoor private event venues in Clearwater resort suitable for groups of 50 to 3000 participants.  Clearwater Resort is generally recognized by event planners as the best event venue in Clark Pampanga.  Clearwater appears frequently on the top of a list of the best hotels in Pampanga.   Camping is one of the popular outdoor activities that take place in Clearwater Resort which is generally regarded as one of the best hotels in Clark Philippines. 
Manila residents and tourists spending a vacation in Philippines prefer to travel out of town from Manila to the north to visit Subic, Pampanga, Angeles City and Clark Philippines. While many areas of the Philippines are plagued by crime and security concerns, Clark Pampanga continues to impress the travel and tourism observers with its immaculately low crime records. Other features of Pampanga Angeles City Clark that attract family tourists and those visitors that are health sensitive include low pollution, peace and quiet ambiance and a most welcome absence of traffic congestion.
Yats Restaurant is one of the good restaurants in Pampanga, a restaurant with good food, a place that is nice for celebration, ideal for business dinner meeting, a good place to enjoy family reunion, and an attractive restaurant that serves good wines for dinner.
Families with small children prefer outdoor resort in Manila clean and safe place in Pampanga Clark to bring kids to relax and unwind. Family bonding is much more effective and enjoyable in a private resort that offers large outdoor facilities, picnic grounds, beautiful scenery, peaceful and quiet ambience.
Many are selling off their assets to start a new life in Philippines, taking advantage of the standard-of-living differential to start a business or just enjoy living in a tropical country. With careful planning, the move to Philippines can work out brilliantly or it can be a painful mistake. Clark Pampanga has been the preferred destination for retirement also.
You might want to check also the Yats Restaurant is the best restaurant for special dinner, best restaurant for dinner with friends near Manila, also the best place to celebrate special events.
Are you looking for an attractive restaurant or a nice place to eat with friends in Clark, Angeles City Pampanga? Yats Restaurant and Wine Bar is a restaurant with good food and good wines for dinner located at Clark Angeles City Pampanga. Perfect for exclusive dinner venues for groups, recommended for private dinner in Philippines. A Restaurant in Clark for business dinner meeting. Private dinner place or dinner restaurant in Clark Subic Near Manila Angeles City Pampanga. Yats Restaurant is one of the Good Restaurant in Pampanga Angeles City Clark near Manila.
Famous Restaurant in Pampanga, a place to dine with friends in Clark, cozy restaurant with a nice ambience, a nice function place for special occasions
Looking for a party venue in town?
Clearwater Resort and Country Club is one of the ideal venues for birthday party because it is a risk free venue. Not only Birthday Parties but also a good place to enjoy family reunion. A good place to celebrate special occasions. Clearwater Resort and Country Club is one of the resorts in Subic Clark Angeles City Pampanga or near Manila with activity amenities, place that are nice for celebration.
This web site contains articles and information that will be helpful to visitors, residents and tourists traveling out of town from Manila on a short getaway to Subic, Angeles City, Pampanga and Clark Philippines. There are several web sites that contain information that might also be pertinent to what is happening in North Luzon, Subic, Tarlac, Pampanga, Clark Freeport Philippines.
Looking for interesting hotels near Manila Subic Clark Angeles City Pampanga?
Trouble free hotels and well recognized hotels in Subic Clark Angeles City Pampanga
Clearwater Resort and Country Club offers a good place to stay in Subic Clark Angeles City Pampanga. In offers nice place to have rest in Subic Pampanga outside Manila.
One of the Philippines top hotels in north Luzon.
Wedding couples looking for wedding reception venues and beach wedding venues can log on to this Philippines Wedding Venue web site for free information and assistance:

For assistance with lodgings, accommodations, hotels and resorts near Manila in Subic, Pampanga, Angels City and Clark Philippines log on to http://www.HotelClarkPhilippines.com
While in Clark, one might as well add to the itinerary a visit to the famous Clark Wine Center, the largest wine shop in Philippines which offers over 2000 selections of fine vintage wine from all wine regions, vintages spanning over 50 years covering all price ranges.
Search
Contact Clark Philippines
Politics & Opinion
Promote Your Business
Recent News & Press Releases
What's Happening in Clark
Flight Schedules
Diosdado Macapagal International Airport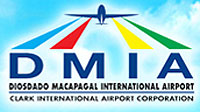 Check flight schedules to and from Clark Freeport
here
Exchange Rate
<!-Currency Converter widget - HTML code - fx-rate.net -->
   Philippine Peso Exchange Rate
<!-end of code-->
Clark Pampanga Weather
<!-Weather in Angeles City, Philippines on your site - HTML code - weatherforecastmap.com -- ><!-end of code-->