Address: 2/F, 3525 Mola Street, La Paz Village, Makati City, Metro Manila, Philippines
Studio IX is a new company owned and ran by veteran photographers in the event and advertising photography industry with a mix of young upcoming picture makers that bring bright new ideas into the organization. As in the opera 'Marriage of Figaro', we at Studio IX believe that wit should overcome wealth and power. We believe that photographer education should be a better basis for choosing our partners rather than the equipment that they bring along.
Studio IX and the Photographers.
Studio IX is a new company owned and run by veteran photographers in the event and advertising photography industry. As in the opera 'Marriage of Figaro', we at Studio IX believe that wit overcomes wealth and power. We value skill as well as technical knowledge over technology and equipment.
Studio IX Philosophy.
With so much image post processing happening around us, photographers have lost their focus. We believe that photographers are hired to take pictures (first) and that image processing is only second. As the adage goes, 'less is more'. Minimalism in image production brings out deeper emotions and rekindles clearer memories.
Executing the Work.
We are probably one of only a few in the industry that offer unobtrusive coverage of your event (wedding). This ensures that we capture every emotion as it happens and that every image is genuine, and not set up. So that years from now, as you return to your album, you may vividly relive the emotions of that day.
There are numerous opportunities for investments between US$100,000 and $500,000. These opportunities are especially attractive for semi-retirement lifestyles. The best, easiest and safest way to go about with this kind of investments is to deal with an existing business – a locator as business in Clark is called – so the investor is spared of the hassle of dealing with red-tape and bureaucracy that is always present in third-world countries. The existing locator has already cleared the path so to speak and even if it means asking for small premium for a partnership, it is very much worth the while of a new investor to take this route. Business opportunities depend largely on the skills, interests and experiences of the investors but there is a strong demand for more establishments in these areas: entertainment, shops, office space, construction and engineering services, restaurants and bars, transportation and travel assistance.
Clark Freeport is one of the most attractive business propositions the Philippines has to offer for investors in many kinds of businesses from BPO, hospitality, resorts and leisure facilities to condos, retirement homes, restaurants, bars and shops.
This web site contains articles and information that will be helpful to visitors, residents and tourists traveling out of town from Manila on a short getaway to Subic, Angeles City, Pampanga and Clark Philippines. There are several web sites that contain information that might also be pertinent to what is happening in North Luzon.
For assistance with organizing and planning weddings and garden receptions, log on to http://www.PhilippinesWeddingVenue.com

For assistance with lodgings, accommodations, hotels and resorts near Manila in Subic, Pampanga, Angels City and Clark Philippines log on to http://www.HotelClarkPhilippines.com
While in Clark, one might as well add to the itinerary a visit to the famous Clark Wine Center, the largest wine shop in Philippines which offers over 2000 selections of fine vintage wine from all wine regions, vintages spanning over 50 years covering all price ranges.
Search
Contact Clark Philippines
Politics & Opinion
Promote Your Business
Recent News & Press Releases
What's Happening in Clark
Flight Schedules
Diosdado Macapagal International Airport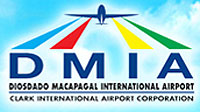 Check flight schedules to and from Clark Freeport
here
Exchange Rate
<!-Currency Converter widget - HTML code - fx-rate.net -->
   Philippine Peso Exchange Rate
<!-end of code-->
Clark Pampanga Weather
<!-Weather in Angeles City, Philippines on your site - HTML code - weatherforecastmap.com -- ><!-end of code-->