This year Clearwater Resort offers a new round-trip excursion package for the convenience of Manila residents planning to take the family out of town to relax and unwind in Clark Pampanga during the weekend of Holy Week holidays in Philippines.
Looking for a nice destination for a getaway from Manila with the family during the Holy Week and Easter holiday this year?
Clark Freeport Zone in Pampanga is a mere 70 minutes from Manila and the entire journey is along newly refurbished North Luzon Expressway (NLEX) and the recently completed Subic Clark Tarlac Expressway of SETex. Travelling to Clark for a relaxing day in the outdoor is safe, comfortable and stress-free.
And this year with the addition a new round-trip excursion package, Manila residents can really take the family out for some fun and relaxation in Clark, savoring the laidback, slow-paced lifestyle that this Freeport city is known for.
Clark HOLY WEEK Round Trip Excursion Package
For this year's holy week of in Clark, Clearwater Resort and Country Club welcomes Manila families visitors with a special round-trip excursion package making it convenient to enjoy a short- getaway from Manila during the weekend of Holy Week and Easter holidays in Philippines .
This round-trip excursion package includes:
• Holy Week Shuttle Bus service, round trip ticket from Manila
• Special Holy Week Lunch at Clearwater Café and Breakfast Garden
• Full-day Admission to Clearwater Resort and Country Club
• Participation for children in the Egg-Hunt at Clearwater Resort
This Holy Week Excursion Package is available on Saturday 19th April.


Price for this package is
Php950 for adult and
Php750 for children aged 12 and below.
Payments can be made through bank deposits.


So how do we book our Round Trip Excursion Package for this year's Holy Week and Easter holidays in Clark?
That's easy. You can call this Holy Week in Clark Hot Line: 0916-782-2643, OR
Click here to order your Holy Week and Easter Holiday round trip excursion packages now.


For more information about Clearwater Resort in Clark, please log on to:
http://www.ClearwaterPhilippines.com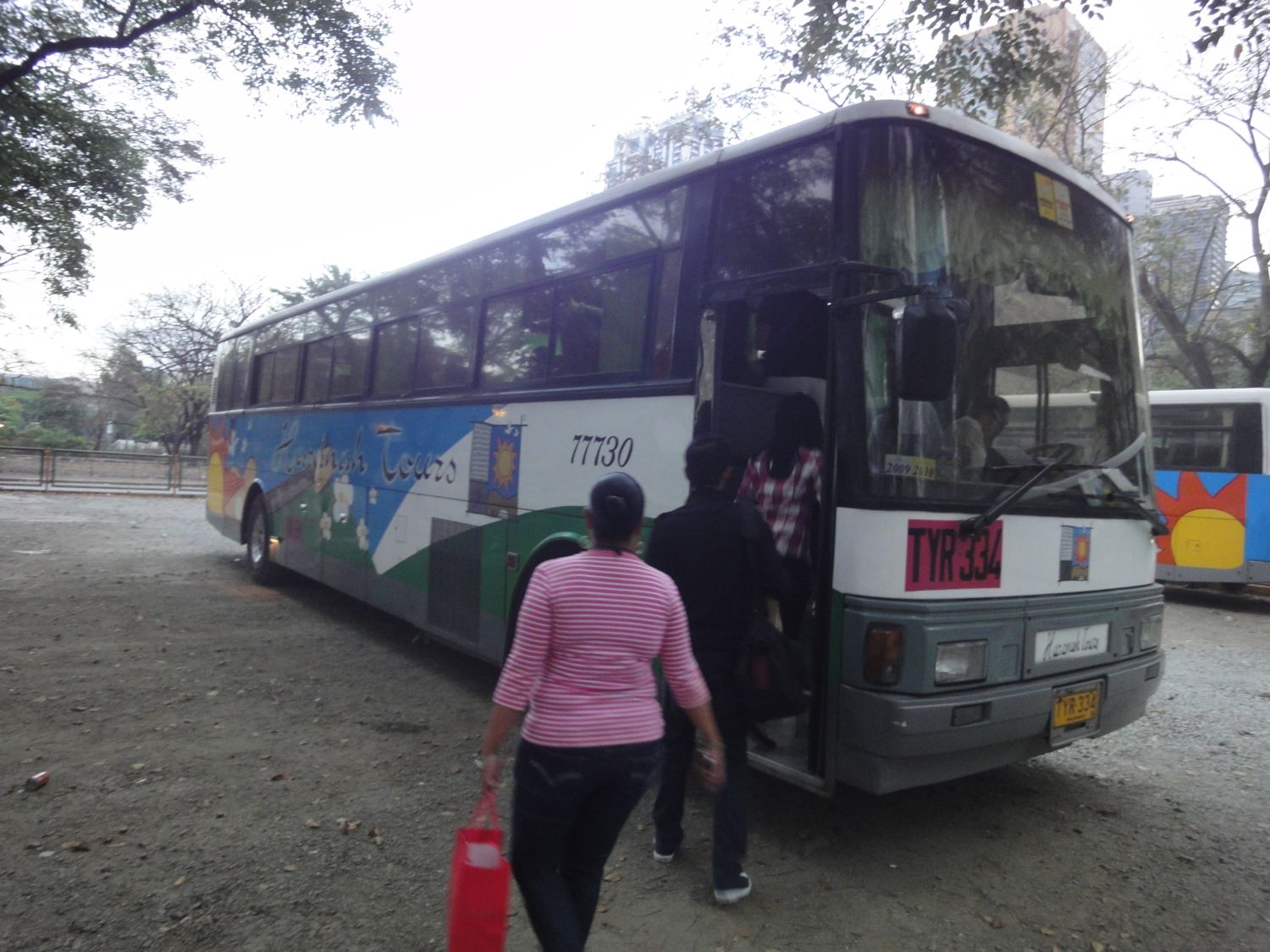 Programs and Itinerary for Holy Week Easter Excursion Tour to Clark Pampanga
06:30 Boarding the Holy Week Shuttle Bus begins at Ortigas, Manila
07:30 Shuttle Bus departs from Ortigas Center bound for Clark Pampanga
08:30 Brief stop along NLEX
10:00 Arrives in Clearwater Resort in Pampanga Clark Freeport Zone
11:00 Lunch at Discovery Island
13:00 Enjoy the facilities of Clearwater
15:30 Easter Egg Hunt Commences
16:00 (English) Afternoon Tea served by Clearwater Garden Café
17:30 Those who wish to do some shopping may take the shuttle bus going to a nearby shopping mall and be picked up later going back to Manila
18:30 Depart Clearwater Resort
18:40 Pick up guests at Shopping Mall
18:50 Depart for Manila
21:00 Estimated arrival in Ortigas, Manila






Clearwater Resort and Country Club, Clark Pampanga
Creekside Road near Centennial Expo,
Clark Freeport, Pampanga Philippines 2023
Tel: (045) 889-5151 or 0917-520-4403 or 0917-431-9045


To make inquiries and bookings with this hotel in Clark Pampanga, click here to contact Clearwater Resort now

Clearwater Resort and Country Club
Manila Sales Office
3003C East Tower, Philippines Stock Exchange Center,
Exchange Road, Ortigas Center,
Metro Manila, Philippines 1605
Tel: (632) 633-1566 0917-540-3626


Holy Week Easter Holiday Travel Assistance Hot Line Number: 0916-782-2643



Getting to this beach resort in Pampanga Angeles City Clark Philippines
After entering Clark Freeport from Dau and Angeles City, proceed straight along the main highway MA Roxas, passing the stand-along wine shop called Clark Wine Center on the right, continue to bear right making no turns at all, go past Mimosa Leisure Estate on the opposite side of the road, one will hit a major intersection. Go straight and the road becomes Creekside Road. YATS Clearwater Resort and Country Club is on the right just 200m down.


Overnight accommodation options include hotels in Angeles City and inside Clark Freeport itself. Angeles City offers glamorous and exciting nightlife entertainment that represents an attractive proposition for are well known among frequent travelers and tourists that visit the Philippines frequently. In sharp contrast, the resorts and hotels in Clark offer a serene ambience conducive to a more laidback lifestyle that many stressed-out residents of Manila come to enjoy when they travel out of town from Manila to the north.


Please click here to find out more about special Holy Week Overnight Accommodation Packages.


There are some good hotels and resorts to stay overnight in Angeles City Pampanga and Clark Philippines. Hotel guests in Clark Pampanga enjoy the laid-back lifestyle of clean healthy living in Clark Airfield. The slow-paced lifestyle is particularly attractive to Manila residents who suffer from pressure and stress of living in the city. Clark Freeport has always been a frequently visited holiday destination during Holy Week and in the Easter holidays of 2013, more visitors are expected to arrive in Pampanga than ever.
Clearwater Resort also offers round-trip excursion packages for Manila families to visit Clark during the Holy Week weekend. Special Egg-Hunt programs are available on Saturday and Sunday also.
Clark is home to the international airport DMIA and several world-class golf courses and casinos. Clearwater Resort is a top rated hotel in Clark Pampanga that is already a Pampanga tourist attraction and the resort is generally regarded by event organizers and schools to be the best venue destination for school trips, outings, family picnics or just a good and safe place for kids to enjoy themselves in the outdoors.
Many trips are made by families in Manila to Clark Pampanga to enjoy the peaceful lifestyle at Clearwater, the best resort in Clark Pampanga which is already a famous tourist destination of the Philippines near Angeles City and Subic. Many visitors return to the best hotels in Angeles City Pampanga for the beautiful lake and the safe and secure picnic grounds that allow the kids to enjoy outdoor activities while parents rest and relax in the resort of Pampanga.





Where to eat and dine out in Clark, Pampanga
Clark is not only famous for special events like the famous Hot Air Balloon Festival, the international airport, golf courses and casinos, but this city near Manila is also well known for its fine dining restaurants. To cap off a memorable day in Clark, many visitors make a reservation to wine and dine at the famous fine dining Yats Restaurant and Wine Lounge located inside Mimosa Leisure Estate. Here wine lovers enjoy a delicately prepared wine-paired dinner. Even the healthy conscious and the vegetarians get to enjoy a sumptuous meal at this world-class restaurant.
Yats restaurant in Clark Philippines offers an award-winning restaurant wine list, top rated fine dining resto bar outside Manila. Each year, world leading wine and dining magazine called Wine Spectator gives out a special award to restaurants offering the best wine selections. The Best of Awards of Excellence is given out to 800 of the best restaurants worldwide. Here in the Philippines, Yats Restaurant and Wine Bar is the only one to receive this prestigious international award. This restaurant in Clark Pampanga is already well known as one of the best restaurants in the Philippines. With this award, this fine dining establishment puts Philippines, Clark Pampanga on the map of the international dining scene.
Those who prefer a more casual dining ambience can dine at the authentic English gastropub called The London Pub which is famous for serving the best English fish n chips in the Philippines. This popular hangout place in Clark is a family resto bar that smacks of a typical pub in England. It is considered to be one of the best places to drink and unwind in Pampanga.
For wine lovers and those who enjoy wine as part of their dining experience, visitors to Pampanga should not miss out on the opportunity to pick up a few bottles of vintage wines from the famous wine shop in Clark called Clark Wine Center. Located along the main highway in Clark called M A Roxas, this wine shop outside of Manila offers not only the rare and expensive wines but also a large selection of vintage wines in the midrange price levels. These wines are not available in Manila so visitors often do a little wine shopping before leaving Clark. For more information, please visit:
http://www.ClarkWineCenter.com

Please plan your trip to Pampanga and confirm your hotel accommodation and dinner reservations well in advance.
Hot Line for what's happening in Clark: 045 889-5151, 0927-940-2669
Ask for Marilou, Loydha or Jeramie


Have a safe and pleasant trip to Clark!




Search
Contact Clark Philippines
Exchange Rate
<!-Currency Converter widget - HTML code - fx-rate.net -->
   Philippine Peso Exchange Rate
<!-end of code-->
Clark Pampanga Weather
<!-Weather in Angeles City, Philippines on your site - HTML code - weatherforecastmap.com -- ><!-end of code-->